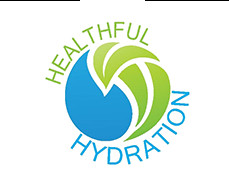 When you need to clean your bottle, simply stick it in the dishwasher. Our bottles are both freeze and heat resistant, and completely shatter proof
Tampa, FL (PRWEB) January 05, 2015
The founders of Healthful Hydration, a company that features top quality and attractive infusion water bottles, are proud to announce the launch of their new and user-friendly website. In addition to explaining why it's so important to drink enough water every day, the new Healthful Hydration website also allows easier purchasing of their infusion water bottles for sale online directly from the website.
As one of the founders of Healthful Hydration explained, he and his wife were inspired to launch their company after she suffered from a painful bout of kidney stones. After learning that neither one of them was drinking enough water—and trying to find tastier and less-boring and bland ways to add extra H2O into their days—the couple discovered the joys of infused water, which involves adding favorite fruits, veggies and herbs into the water.
"Healthful Hydration wants to start the health trend of everyday, on-the-go infuser water bottles," the founder noted, adding that by adding organic vitamins and minerals that the body can utilize naturally, it will help keep the body properly hydrated and more functional than water alone.
"With BPA free plastic, dishwasher safe material, and all the practical function of a water bottle, you can step it up a notch by adding your favorite fruits, herbs, and vegetables and liven up the way you drink."
Using the Healthful Hydration infusion water bottles is easy—first, people place the fruits, vegetables, herbs and/or teabags of their choice into the infuser basket. After the black cap is locked into place on the basket infuser, the infuser is dropped into the bottle, which is made from high quality Tritan plastic from the Eastman company. The delicious flavors of the fruits, vegetables and other foods will get into the water, turning an average bottle of H2O into a delicious and easy-to-consume beverage.
"When you need to clean your bottle, simply stick it in the dishwasher. Our bottles are both freeze and heat resistant, and completely shatter proof," the founder noted.
Anybody who would like to learn more about Healthful Hydration is welcome to visit the newly launched website; there they can read more about how the innovative infusion water bottles work.
About Healthful Hydration:
The founders of Healthful Hydration are passionate about encouraging people to live healthful lifestyles and added a little fun to make hydrating healthy and flavorful. The company features infuser bottles that are completely BPA free plastic, dishwasher safe, shatterproof, and have leak proof tops. For more information, please visit http://healthfulhydration.com/