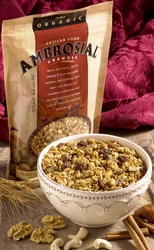 This sweet and crunchy organic granola wowed our taste buds with its combination of walnuts, dates, and raisins. It packs in heart-healthy omega-3 fatty acids and 28 grams of whole grains and has no added oil
Brooklyn, NY (PRWEB) March 15, 2011
Ambrosial Granola received high honors as the Healthiest Cereal 2011 in Prevention's Healthiest Packaged Foods 2011 competition. Venetian Vineyard Omega-3 organic granola cereal earned the award for its superior nutritional profile and rich flavors. "This sweet and crunchy organic granola wowed our taste buds with its combination of walnuts, dates, and raisins" the committee reports and continues: "It packs in heart-healthy omega-3 fatty acids and 28 grams of whole grains and has no added oil".
The prestigious recognition from the leading healthy lifestyle Prevention Magazine and its website Prevention.com to Venetian Vineyard organic granola, one of twenty-one given to prepackaged healthy foods, was announced in ABC News Good Morning America on March 1st. In line with its promise to help readers be proactive and have an influence over their own well-being, Prevention asked registered dietitians and food bloggers to nominate their favorite healthy packaged foods. After repeat tastings, a list of their top choices in various categories was compiled. Prevention recommends those choices as healthy and flavorful additions to the daily diet of busy individuals and families.
Venetian Vineyard organic granola was inspired by the healthy eating traditions of the Mediterranean lifestyle. It is simple, yet sophisticated flavor and has a balanced nutritional profile, complete with whole grains, heart-healthy omega-3 essential fatty acids, fiber and other important nutrients. This minimally processed low sugar granola, is wheat, dairy and trans fat-free and has not refined sweeteners or added oil. Venetian Vineyard is certified organic granola cereal, free of chemicals and genetically modified organisms (GMOs) and is chock full of nuts fruits and seeds.
"We are delighted! This recognition endorses our founding values" said Anastasia Makoulis, the founder of Ambrosial Granola. "Passion for excellence, coupled with our rich Mediterranean heritage connects us so intimately with simple, fresh, and yet, nourishing food tastes. We rely on the wealth of our organic ingredients and flavors in their purest form, to achieve the full flavor potential" she adds.
Two organic granola cereals, the Venetian Vineyard Omega-3 and the Grecian Grove Antioxidant Blend, along with one organic muesli flavor, the Athenian Harvest Muesli Fiber Boost are included in the current Ambrosial Granola portfolio. The simple notion that food is fundamental to life is the guiding force behind any product formulation by the company. The latest findings from studies on nutrition and public health inform the product development process. The wisdom of the traditional Mediterranean diet is the source of inspiration in crafting authentic granola and muesli flavors. Adopting the highest organic standards is one of the ways to fulfill the promise for contributing to a better environment.
About Ambrosial Granola: The company was founded by Anastasia Makoulis at a turning point of her professional career in the nonprofit sector. However, the true origins go back to Greece where Anastasia was born and raised with the rich Mediterranean diet. Influenced by the healthy food movement early on, she could not compromise to use the highly processed sugary breakfast cereals to raise her two children when she became a mother. The home-made granola came to life.
Today, headquartered in Brooklyn, New York, the name of the brand signifies the quality of its offerings and its Mediterranean origin. Ambrosia was the food of the Gods living atop Mount Olympus according to Greek mythology. The pure, nutritious and delicious granola and muesli cereals are all USDA certified organic and Kosher supervised. They are available to the retail and food-service trade on the East Coast, Midwest and nationally online through the company's website http://www.ambrosialgranola.com.
###