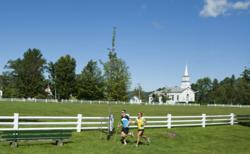 Vermont sports events are proliferating; the caliber of the events and participation continues to increase and appeal to destination-savvy athletes as well.
Montpelier, VT (PRWEB) February 28, 2013
Vermont is repeatedly ranked the Healthiest State in the nation. From its chiseled farmers to Olympic skiers and riders and mountain biking mommas, it shows. Of course, Vermont's farm to plate culinary scene also plays a large role in fueling and tantalizing visitors and local athletes alike.
Vermont's sports events schedule is proliferating; plus, the caliber of the events and participation continues to increase and appeal to destination-savvy athletes. Seventy-five percent of marathon runners in the KeyBank Vermont City Marathon, the state's largest marathon, come from out of state. Other races like the Half Marathon Unplugged doubled in participation in the last two years and the 24th annual FirstRun 5k on New Year's Day saw 107 percent growth from 2009 to 2012. The fact that the 5k race is growing most quickly, followed by the half marathon, reveal a welcomed increase of new runners regionally, reports RunVermont.
"We are a state comprised of athletes, by athletes, for athletes," says Vermont Department of Tourism and Marketing Commissioner Megan Smith, also a skier and cyclist. "We offer a variety of natural settings, from rigorous to contemplative, and event organizers rise to the occasion to suit various athletes' preferences."
Upcoming events "run" the gamut from gentle to grueling; the choice is yours:

Mud and Ice Quadrathlon: March 31, Craftbury
Rollin Irish Half Marathon: April 20, Essex
Tour of the Dragons: May 4-5, Shires of Vermont
Middlebury Maple Run – the Sweetest Half: May 5
Mad Triathlon & Kids Triathlon: May 11, Mad River Valley
Shires of Vermont Marathon: May 19
KeyBank Vermont City Marathon: May 26, Burlington
Killington Stage Race: May 25-27
Tour de Kingdom: June 5-9, Northeast Kingdom
Tour de Heifer: June 9, Brattleboro
WanderLust: June 20-23, Stratton Mountain
Long Trail Century Ride: June 22,
LAX Bitter Lacrosse Tournament: June 20-28, Stowe
Northern Champlain Century: June 22
New England Tri Fest: June 29-30
Kingdom Swim: July 6, Newport
Mad Marathon: July 7, Mad River Valley
The Great Race Triathlon XXXIV: July 7, St. Albans
Vermont Mountain Bike Festival: July 13-14, Ascutney
Stowe 8 Miler: July 14
The Biggest Loser RunWalk: July 28, Killington
Tough Mudder: August 10-11, Mount Snow
Harpoon Point to Point: August 10, Windsor
The Vermont Challenge: August 15-18
100 on 100: August 17
Green Mountain Stage Race: Aug 29-Sept. 2
Spartan Beast Race: Sept. 21-22
Vermont Sports & Outdoors Scene by the Numbers:

50+ Vermont State Parks
273 miles of the Long Trail
7,000 miles of rivers and streams, including part of the 740 mile Northern Forest Canoe Trail
50+ alpine and Nordic ski areas
212 miles of Vermont shoreline along Lake Champlain, the nation's sixth largest lake
200 Vermont Outdoor Guide Association (VOGA) outfitters and services ready to assist
223 Mountains
18 Mountain Bike Clubs in the Vermont Mountain Bike Association
625,000 Residents
9,200 sq. miles of land; 76 percent forested
Bonus: Local brews to toast your athletic endeavor? One for every mile of a marathon, plus some: 27 breweries.
Pair these events with arts, agriculture, attractions, lodging and more at http://www.VermontVacation.com. For a broader calendar of Vermont sports, visit Vermont Sports Magazine. Happy training!