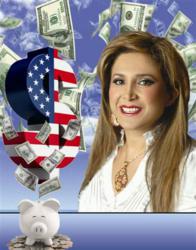 Los Angeles, CA (PRWEB) October 01, 2012
Many employees consider health coverage to be one of the most important benefits they will receive from their company outside of their salary. Not only will these policies entice some of the best staff in a particular field, they will also keep them healthy and productive throughout the years. This is Sofi Insurance Services, Los Angeles insurance agency, has streamlined the manner in which employers can find the right health insurance plans for their own company with side-by-side comparisons of all of the leading insurance providers and coverage plans.
While many would not like to take on the task of finding a new insurance policy for their company, the huge benefits of the perfect coverage will help to improve the company as well. Not only could the right policy bring in tax deductions, it could also improve morale throughout the office, make recruitment easier, increase retention, and reduce absenteeism. All policies are not the same though, and a business may find itself with a second-rate plan that is draining money instead of improving the company.
Sofi Insurance Services has renovated the process of finding employee, individual, and family health insurance policies. Instead of wading through huge amounts of paperwork or dealing with salespeople from multiple companies, Sofi Insurance Services only requires the user to fill out the most basic of information before a list of policies is presented to them. These individuals can then carefully look at an easy format for comparisons to find the policy that will fit their own unique needs.
Instead of then making a call to the insurance company itself, the application can be sent in directly throughout the website and the customer will quickly be notified of the next steps that must be taken. Not only will this save time on the process of finding insurance, it will also allow an employer to cut their own costs throughout the years.
Finding coverage for employees or a personal health insurance plan is not a task that many want to take on, but those that invest just a little bit of extra time with trusted companies such as Sofi Insurance Services could be protecting their health, their finances, and their future.
Visit http://www.lahealthcoverage.com or call (800) 636-7707 for more information. Sofi Insurance Services is located at 16661 Ventura Blvd #700 in San Fernando Valley, CA 91436.