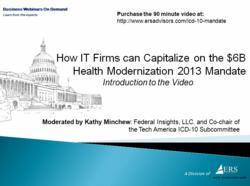 I counted over 150 medical firms just in my own small town that will need over $12 million in IT modernization services
Washington, D.C. (PRWEB) August 31, 2011
Business Webinars On Demand, a Division of ERS Advisors, announced the release of a 90 minute downloadable video explaining how IT firms can benefit from a federal healthcare billing and reporting modernization requirement. Watch a 4 minute preview of the 90 minute video here.
The International Statistical Classification of Diseases and Related Health Problems, 10th Revision (known as "ICD-10") is a medical classification for the coding of diseases and medical procedures. The Department of Health and Human Services (HHS) is responsible for overseeing the U.S. health care industry's change from ICD-9 to ICD-10 for medical diagnosis and inpatient procedure coding.
Insurance companies will only pay bills in the new format, guaranteeing that the industry will be spending money on IT services to meet the mandate. This is a sea change for the healthcare industry requiring thousands of additional codes and a complete modernization of most medical billing and reporting systems.
The government estimates that healthcare firms will each spend between $30 thousand and $2 million to convert to ICD-10 and train staff to use it. Get the Video here.
WHAT YOU WILL LEARN FROM THE VIDEO
Learn how your IT firm can capitalize on this opportunity. View this 90 minute webinar to:
■ Understand the changes to the International Classification of Diseases reporting requirements
■ See how insurance companies and medical providers will be impacted
■ Learn the business opportunity for IT firms and consultants
■ Find out ways to locate the ICD-10 modernization opportunities in your backyard
MEET THE PANEL
Moderator: Kathy Minchew, President, Federal Insights, LLC
Ms. Minchew co-chairs the Tech America ICD-10 Subcommittee, co-chairs the HHS Vision Conference Committee, and served on the HIMSS 2009 and 2010 Board of Directors as the Program Chair.
Panel

Sonja Racke, RN, BSB/M, CPC, PCS, Provider Outreach and Education Lead, National Government Services, Medicare is the Clinical Team Lead for the Midwest regions for Medicare programs and the Regional Home Health and Hospice Intermediary. Ms. Racke is also an adjunct faculty member for the National College in the Medical and Health Careers Department.
Kellie Templin, Provider Outreach and Education eCommerce Consultant, National Government Services, leads training and education in the provider community regarding electronic billing and HIPAA. She has an extensive background in member services, telecommunications and information technology, which she uses to consult on the comprehensive transition of ICD-10.
INTRODUCING BUSINESS ON DEMAND
A Division of management consulting firm ERS Advisors, Business Webinars On Demand produces business management and business acquisition videos designed for business owners and senior managers that feature 90-minute panel discussions with industry experts and experienced decision makers. These downloadable videos provide actionable directions for entering growing markets, successful approaches to winning business, and expert guidance on how to increase company valuation.
# # #