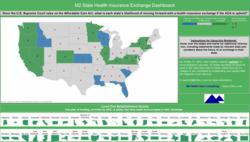 Washington, D.C. (PRWEB) June 21, 2012
What is next for health reform? If the U.S. Supreme Court rules favorably on the Patient Protection and Affordable Care Act, will states move forward with establishing required health insurance exchanges?
M2 Health Care Consulting analyzed state legislative activity, funding allotments and statements from policymakers to assess the likelihood of whether each state will move forward with a health insurance exchange. The analysis is available for free in an interactive report format by clicking here.
While 15 states have enacted legislation to create an Exchange, more than half of states have not. "Despite a general sense that a majority of states are against health reform, our analysis found only 6 states were likely not to move forward to create an exchange on their own if the law is upheld by the Supreme Court," said Brenda Gleason, President of M2 Health Care Consulting.
About M2
M2 Health Care Consulting is a boutique consultancy focused on state health policy with offices in Denver and Washington, D.C. M2 provides strategic consulting services related to health policy to Fortune 100 clients, professional services companies, professional money management firms, as well as non-profit health care organizations.