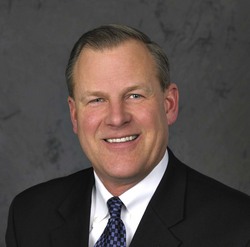 Jim Narum has a proven track record in the industry for achieving health improvement and financial savings for customers.
Owings Mills, MD (PRWEB) November 1, 2010
Health Solutions announced today that Jim Narum, M.S. joined as Director, National Business Development. In his new role, Narum will develop new business for Health Solutions' award winning national health assessment, biometric screening, and health improvement services, and lead the national expansion of wellness consulting and management services.
Kevin Clair, President of Health Solutions, says, "Jim Narum brings over 24 years of health and wellness industry experience and leadership in business development, consulting, and operations to the Health Solutions team. He has a proven track record in the industry for achieving high customer satisfaction and retention, revenue growth, leading high-performing teams, and achieving health improvement and financial savings for customers".
In addition to expanding Health Solutions Wellness Management business, Narum plans to deliver Health Solutions' Program Value Analysis consulting process which helps companies with existing wellness centers and programs assess program effectiveness and financial efficiency. He also will use his experience in conducting over 100 feasibility and corporate wellness center design and planning consulting projects with Fortune 500 customers to consult with companies interested in developing new programs.
Narum comes to Health Solutions from HealthFitness, where he served in a number of senior leadership roles including Senior Vice President, Business Development and National Vice President of Operations over a 12 year period. While at HealthFitness Jim led the expansion of corporate wellness accounts from 100 to 160 during a six year period. He also helped many customers identify health risks by offering health screenings and assessments, and improving health through a wide range of wellness programs.
Prior to HealthFitness, Jim was the Regional Vice President in the West, Northeast, Midwest and South for over 12 years with Fitness Systems, a Los Angeles-based early pioneer and leader in the corporate health and wellness consulting and management industry. Jim was promoted to lead national operations in the corporate health and fitness division for HealthFitness when it acquired Fitness Systems in 1995.
Narum also served on the Board of Directors of the Health Enhancement Research Organization (HERO) for two years, and was an active member and contributor in the Association for Worksite Health Promotion for many years.
Health Solutions, a national leader in employer-based health and wellness programs, is a single-source worksite wellness solution for employers and health plans. Founded in 1991, Health Solutions award-winning services improve the health of employees, and include health screening, wellness and disease prevention programs.
###