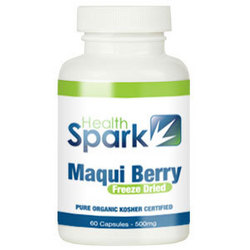 Maqui Berry has a stronger ORAC value than Acai Berry
(PRWEB) December 6, 2009
UK online health store, HealthSpark is the first to the market with British manufactured Maqui Berry.
Superfoods are becoming, such as Acai Berry, are highly regarded for their antioxidant capabilities. To measure the antioxidant capabilities of food, scientists use Oxygen Radical Absorbance Capacity (ORAC). The standard blueberry has an ORAC value of 6500. Acai Berry has an ORAC value of 16,700, but Maqui berry has an amazing ORAC value of 27,600. Maqui Berry has the highest known antioxidant value of any known superfood.
Thousands of people are already aware of the amazing benefits of this superfruit overseas but as yet relatively few in the UK have heard of it. Now thanks to Health Spark chemists and buyers can now enjoy this quality superfruit with authentic and certificated purity.
Health Spark Maqui Berry is the only product in the UK currently being sold that carries USDA Organic certifcation and Kosher certified. Health Spark Maqui berry is wild crafted from the native forest in Chile by hand.
"We're delighted to be bringing another worldclass product to the market" said Fabian Whittingham, Health Spark's Managing Director. "The strength and value of the formula, and the integrity of manufacturing make HealthSpark's Maqui Berry a vital supplement for a wide cross-section of the population"
For additional information on HealthSpark, Maqui Berry (or for a sample product), please contact Fabian Whittingham or visit http://www.healthspark.co.uk.
###