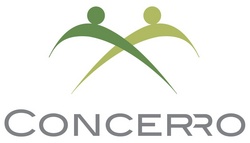 There is a national crisis in healthcare, and at the same time contract labor spending is exploding to $10 billion
SAN DIEGO (PRWEB) August 11, 2008
Based on Web 2.0 principles and the concept that staff empowerment, collaboration, and accountability creates productive and healthy work environments where people want to work, HealthStaff 2.0 enables healthcare organizations to leverage the power of the Internet and their own workforce to achieve cost-effective staffing through online collaboration, community, self-organization, information sharing, and collective intelligence.
"There is a national crisis in healthcare, and at the same time contract labor spending is exploding to $10 billion," stated Graham Barnes, CEO of Concerro. "Providing high quality patient care while managing labor costs against a background of increasing transparency and declining reimbursements is a critical challenge. It is imperative that hospitals make best use of their resources and invest in the motivation, retention, and recruitment of qualified staff. In response to this, we have launched HealthStaff 2.0 -- including the new ShiftConnect full-circle shift management solution -- at no additional cost. We believe that Web 2.0 principles can help healthcare to solve old problems in new ways, and save up to $3 billion."
Concerro was the first company to manage shifts online with incentives for effective nurse staffing in hospitals. HealthStaff 2.0 is delivered through Concerro's SaaS model which provides 24/7 anywhere, anytime access via the Internet with no capital investment. The system is structured so that customers can enable different components of HealthStaff 2.0 to meet their organization's unique staffing objectives and work with existing systems. HealthStaff 2.0 includes the following resources:
-- ShiftConnect: Provides full-circle shift management for a fresh and new approach to scheduling. ShiftConnect offers enterprise-wide advanced shift management and scheduling for all shift types, including core, non-duty, on-call, and open shifts. The modular design also offers options for integration to existing core scheduling products.
-- ShiftSelect: Provides employee participation and choice through a personalized space for staff to connect and collaborate around work interests and schedules. Staff can browse through work opportunities and choose those that best fit their interests, schedules, and lifestyles. The system matches staff experience, competencies, and skills to shift requirements.
-- ShiftRewards: A complete strategy and toolkit for both financial and non-monetary incentives. The module includes a variety of financial incentive options as well as a point-based incentive program that rewards staff with points that are earned for requesting and/or being awarded a shift. Points are accumulated and redeemed for rewards, much like airline frequent flyer or credit card point programs.
-- VMShift: Automates communication with external agencies and vendor management system providers for the request and fulfillment of shift needs.
-- StaffReach: An interactive notification tool that automates communication to employees for filling urgent open shifts and enables employee response via use of a variety of devices including mobile phones and PDA's.
-- IdeaConnect2.0: An online community available at http://www.ideaconnect2.com to allow people in healthcare to connect and collaborate, share experiences, highlight best practices, and discuss key industry issues. Participants can view webcasts and blogs, review relevant literature, and participate in discussion forums.
-- ConcerroConsult: Seasoned executive strategists provide advice on business processes and management practices to power Excellence in Staffing.
Health Staff 2.0 is point and click, drag and drop easy to use with intuitive navigation, simple drop down menus, and user configurable dashboards. It is highly secure, available at a fully inclusive monthly price, and can be implemented in six weeks with minimal IT involvement and the benefit of seamless continual improvements.
About Concerro
Concerro, formerly known as BidShift, is a SaaS (Software-as-a-Service) company that uses Web 2.0 technology to deliver software and services that achieve excellence in staffing by enabling employees to connect and collaborate, online anywhere anytime. Based in San Diego, Calif., Concerro helps healthcare organizations realize cost savings, recruit and retain staff, and improve patient care with data-driven decision making. To learn more, visit http://www.concerro.com.