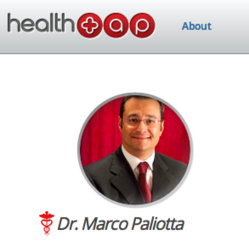 HealthTap allows me to reach out to many more people than I could with just my local practice. I am thankful… for the opportunity to extend medical advice and expertise to people nationally and even globally.
Oklahoma City, Oklahoma (PRWEB) July 30, 2012
An Oklahoma City pediatric cardiac surgeon joined HealthTap™, an online health network as a practicing consultant.
Dr. Marco Paliotta, a pediatric cardiothoracic surgeon based in Oklahoma City, can now also describe himself as a medical expert for HealthTap, an interactive health network online. Dr. Paliotta can now provide his expertise in cardiac medicine with patients on statewide, national and international levels, while continuing his practicing in Oklahoma City.
Dr. Paliotta's association as an expert within the HealthTap organization promotes and improves upon Oklahoma and Oklahoma City's medical reputation. Dr. Paliotta's involvement with HealthTap also helps serve his existing patients in Oklahoma City who can easily ask questions about any health concerns they might have and ultimately help them make informed health decisions.
Dr. Paliotta attended medical school in Italy at the University of Rome – La Sapienza. His current position is Assistant Professor at the University of Oklahoma's Health Science Center specializing in pediatric cardiothoracic surgery. Dr. Paliotta also supports the International Children's Heart Foundation, the American Heart Association, Corazon de Esperanza and Habitat for Humanity. Dr. Paliotta's profile can be viewed at http://www.ctsnet.org/home/mpaliotta.
HealthTap allows patients to share concerns and ask medical questions directly to doctors and specialists like Dr. Paliotta who are able to provide clear and reliable answers.