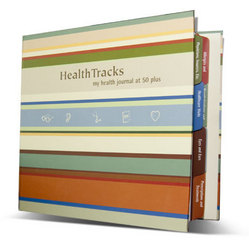 My Health Journal at 50 Plus
Denver, CO (Vocus) December 7, 2009
HealthTracks recently released "My Health Journal at 50 Plus", a convenient and portable personal health notebook. The book features 12 tabbed sections of physician-approved content and three pockets for receipts and informational handouts. "My Health Journal at 50 Plus" provides an easy way for individuals and caretakers to track health-related issues, and it is a family medical history to pass along to future generations.
The sections included in "HealthTracks … My Health Journal at 50 Plus" include:

Physicians, Insurers Directory
Healthcare Visits
Eyes and Ears
Prescriptions and Treatments
Allergies and Chronic Conditions
Hospitalizations and Surgeries
Family Health History
Diet and Nutrition
Daily Activities
Therapy
Advance Health Directives
With an estimated 50 million Americans currently taking care of loved ones at home and 36 million people at age 65 or older, "My Health Journal at 50 Plus" is a timely tool and resource to assist the aging population.
"My mission is to provide consumers with easy-to-use tools that encourage them to get proactively involved in their health," HealthTracks President Jennifer Cofield said.
In addition to personal use, "My Health Journal at 50 Plus" is available to hospitals, senior-living facilities and healthcare providers for customization and private-label branding. HealthTracks allows organizations to take ownership of the book's forward and cover art for a more impactful promotional tool.
"HealthTracks … My Health at 50 Plus" is available at Amazon.com, ExposuresCatalog.com and http://www.HealtheTracks.com.
About HealthTracks:
HealthTracks, LLC was co-founded in 2003 by Jennifer Daley Cofield, a stay-at-home mom who decided she needed helpful resources and information at her fingertips to effectively care for her kids' health. Cofield and her co-author joined forces and together developed "HealthTracks … A Child's Health History".
"HealthTracks … My Health Journal at 50 Plus" was created in 2009 as a result of dealing with the health issues of Cofield's aging family and knowing the importance of tracking an accurate family medical history.
An online version of HealthTracks is also available at http://www.HealtheTracks.com. In addition, a comprehensive HealthTracks for women's health is currently in the works for a 2010 release.
# # #