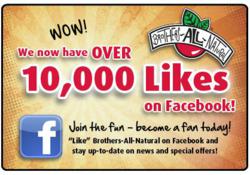 Facebook has proven to be a very effective tool to grow traditional retail and online sales.
(PRWEB) December 16, 2011
In the spring of 2010, Brothers-All-Natural® launched a Facebook page, and today they are proud to announce that its fan base has grown to over 10,000 LIKES. Engaging with their key demographics via Social Media was part of their eCommerce Marketing Plan for 2011, and this technique has proven itself to be a fruitful endeavor.
"Brothers-All-Natural had a banner year in 2011, both in traditional retail and online sales. We were confident with our online marketing plan, but I truly did not expect us to surpass 10,000 fans before the end of the year," said Colin chase, Director of eCommerce for Brothers-All-Natural. "Facebook has proven to be a very effective tool to grow traditional retail and online sales. The healthy snacks category is growing fast and our customers want to know more about the products they buy. In today's retail world, it is not enough to just offer a great product, you need to also assist in educating your customers about your products. Social Media is a great way to accomplish this."
Brothers-All-Natural has been busy at work targeting Facebook with a mixture of marketing techniques, relating to health and wellness. It is this approach that is credited for generating increased demand for Brothers-All-Natural's Fruit Crisps.
"We were thrilled with the news that we had entered the realm of tens of thousands of fans on Facebook," said Travis Betters, Co-CEO for Brothers-All-Natural. "We have not always held the view that Facebook could be utilized in a directly profitable manner. However, as the year went on and the Facebook-attributed sales continued to climb, it became apparent that Facebook was a win-win for us and our customers."
Brothers-All-Natural is the market leader in Freeze Dried fruit snacks, producing their award winning Fruit Crisps. Made with 100% fruit and containing no additives, preservatives or added sugar, Brothers-All-Natural Fruit Crisps have become the Healthy Snack of choice for millions of health-conscious consumers. Brothers-All-Natural's "Eat Healthier America™" healthy snacking campaign seeks to promote healthy eating, while Fruit Crisps provide one of America's leading healthy snacks for kids and adults.
To learn more about Brothers-All-Natural® Fruit Crisps or fat-free Potato Crisps, please visit their Facebook page by visiting http://www.BrothersAllNatural.com/FACEBOOK.
About Brothers International Food Corporation
Brothers International Food Corporation is a privately owned food and beverage company based in New York with offices in North Carolina, China and Ecuador. The company was founded in 2001 by brothers Matt and Travis Betters, whose family was involved in the processed fruit and vegetable industry for more than 65 years. In addition to supplying top-quality fruit and fruit juice concentrates to a number of Fortune 100 food companies, Brothers International is the parent company of Brothers-All-Natural, producing all-natural 100% freeze-dried fruit and potato Crisps, and Lost Vineyards; importing low-cost wines from little-known vineyards in Europe and South America. For more information, visit http://www.lostvineyards.com and http://www.brothersinternational.com.
# # #