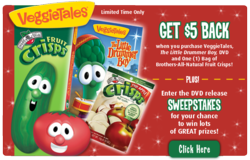 Kids of all ages will love the VeggieTales version of this classic Holiday Story! Enjoy your favorite fruit snacks with your favorite Veggie DVDs!
Rochester, NY (PRWEB) November 16, 2011
Brothers-All-Natural® Fruit Crisps have been chosen as a featured cross-promotional partner for the VeggieTales® holiday release of "The Little Drummer Boy" from Big Idea Entertainment, Inc.
"We're excited to partner with Brothers-All-Natural for this promotion," said Greg Fritz, Senior Vice President of Sales and Marketing at Big Idea. "We share a commitment to bring high quality products to families. We are pleased that we can help bring awareness to such a healthy and great tasting snack!"
VeggieTales: The Little Drummer Boy is a heartwarming tale that gives a fun, high-energy spin to the classic "Little Drummer Boy" story. The DVD offers a timeless message of hope during the holiday season, and will feature multi-Grammy and Dove Award-winning artists BeBe and CeCe Winans, singing their version of the iconic "The Little Drummer Boy" song. Additional music will also include original songs such as, "Can't Smile Without Ewe," and the all-new silly song, "The 8 Polish Foods of Christmas." The title includes special bonus content and activities and helps to teach the important lessons about giving to others and the power of forgiveness.
"We were very excited when we got the call," said Travis Betters, Co-CEO of with Brothers International Food Corp. "It was an honor to be invited to join in what is sure to be a holiday hit this year. Knowing that our Fruit Crisps were chosen by VeggieTales because we provide America with a healthy 100% fruit snack that also tastes great, made this project irresistible. The #1 freeze-dried fruit snack in the country joining with one of the most beloved holiday classics of all time is sure to be an excellent holiday cross-promotion for all the partners."
Brothers-All-Natural Fruit Crisps are made with 100% fruit and contain no additives of any kind. No preservatives, no flavor enhancers, and no added sugars are included in Fruit Crisps. Brothers-All-Natural's "Eat Healthier America™" healthy snacking campaign, which seeks to promote healthy eating, was seen as the perfect complement for a VeggieTales production.
VeggieTales: The Little Drummer Boy is supported by a comprehensive marketing and advertising campaign, with licensing and promotional partners on board as well, including World Vision®, and Brothers All-Natural® among others.
You can learn more about this holiday cross-promotion, including how to receive $5.00 by mail when purchasing "VeggieTales: The Little Drummer Boy" and one package of Brothers-All-Natural Fruit Crisps. Additionally a Sweepstakes is also planned with the grand prize being a 25-DVD collection of VeggieTales, 2nd place prizing will be copies of VeggieTales: The Little Drummer Boy, and 3rd place prizes will include 24-packs of Fruit Crisps.
For more information, please visit BrothersAllNatural.com/VeggieTales online.
About Brothers International Food Corporation
Brothers International Food Corporation is a privately owned food and beverage company based in New York with offices in North Carolina, China and Ecuador. The company was founded in 2001 by brothers Matt and Travis Betters, whose family was involved in the processed fruit and vegetable industry for more than 65 years. In addition to supplying top-quality fruit and fruit juice concentrates to a number of Fortune 100 food companies, Brothers International is the parent company of Brothers-All-Natural, producing all-natural 100% freeze-dried fruit and potato Crisps, and Lost Vineyards; importing low-cost wines from little-known vineyards in Europe and South America. For more information, visit http://www.lostvineyards.com and http://www.brothersinternational.com.
# # #