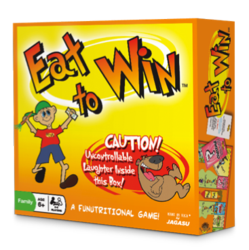 Highland, Michigan (PRWEB) February 13, 2013
Eat to Win LLC, makers of FunNutritional games and products are joining forces with the Lend A Hand Family and Healthy Hip Hop to showcase the benefits their games and products have for children struggling with weight and all those other children who can just benefit from healthier eating habits.
Through their collaboration, Eat to Win produced their first ever commercial, featuring Healthy Hip Hop. The final video can be seen on H3's YouTube page or through this link.
Roy Scott, Founder and President of Lend A Hand Family, the Producer of Healthy Hip Hop, praised the games and products saying, "Eat to Win is a fun and innovative way to get kids active and teach them about making healthy lifestyle decisions."
The Lend A Hand Family regularly conducts live performances at schools and other organizations designed to motivate youth to seek better health and educational success.
"We use the Eat to Win Flash Cards and Board Games at our kids' events and performances," says Scott, also known as Rappin' Roy, "and the response has been outstanding. This summer we will start the filming of our kids' TV show titled 'H3TV,' and we will have an 'Eat to Win' segment in each show to engage and enlighten our youth!"
Jammi Roscoe, Chief Executive Director of Fun for Eat to Win, says, "We are pleased that Healthy Hip Hop will be showcasing our approach in their new show. Rappin' Roy can have a big impact in changing the lives of young people."
For more information, please visit http://www.eattowingame.com
About Eat to Win:
Eat to Win was created by a concerned mom whose own child struggled with being overweight. Child obesity in America has become a major issue. An unhealthy lifestyle is a common problem among children and adults. Eat to Win was created to help encourage nutrition and exercise through fun and active games. Please share your stories with us on Facebook and Like Us to receive a discount! Our games are in agreement with ChooseMyPlate.gov.
About Lend A Hand Family (LAHF):
Lend A Hand Family focuses on creating products and services that will stimulate, motivate, and educate youth. The educational products of LAHF focus on teaching healthy habits that last a lifetime.
For more information, please visit http://www.lahf.org.