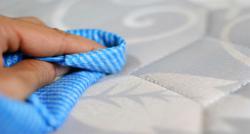 Miami, FL (PRWEB) June 06, 2013
Maintaining a healthy mattress and bedroom helps reduce household allergens, extend the life of a bed, and improve sleep quality. However, not everyone is aware of the role beds play in health or even how to clean a mattress. To increase awareness and improve the way consumers choose and care for their bed, Beded.org has released an article detailing natural mattress care solutions.
The article, titled "How to Keep Your Mattress Clean and Healthy", includes both routine and deep cleaning tips for mattresses, of both innerspring and foam varieties. Three components comprise the majority of the guide, including choosing a healthy mattress, routine cleaning basics, and tips for specific stains and deep cleaning.
Bed Ed first looks at how different mattress types can affect health, helpful for consumers looking to replace a bed. They present all-natural latex mattresses as the ideal option for their inherent resistance to mold, mildew, and dust mites, versus spring beds which have open interior spaces hospitable to allergens. Based on their previous brand comparison, Bed Ed suggests all natural Talalay latex mattresses from Astrabeds for both their healthy materials and value.
Other important preventative measures discussed include mattress lifespans and the utility of mattress covers in both preventing stains and reducing allergens. The guide then details routine care with suggested schedules for vacuuming, rotating the mattress, as well as laundry tips for bedding.
Two specific concerns that encompass a majority of mattress health concerns include mold and bodily fluid stains, both of which are considered. Bed Ed offers solutions for removing surface mold or mildew, but suggests replacement if it appears to have gone below the surface as most mattresses cannot be taken apart for cleaning. Enzymatic cleaners or peroxide are suggested for hard-to-clean stains.
The final sections of the guide break deep cleaning tips into two sections, one for foam mattress and one for innerspring beds. Useful and detailed cleaning tips are provided, primarily focusing on natural household cleaners. From surface stains, to deep stains, to odor removal, Bed Ed collects and explains several methods for treating problems and keeping one's mattress healthy.
The post concludes with the value of using a protective cover or encasement to prevent problems like stains and allergens from becoming an issue, or from voiding warranties. Overall, Bed Ed's healthy mattress tips offer helpful information readers can keep handy in case accidents occur.
BedEd.org is a mattress education blog dedicated to providing informational resources to shoppers. The blog features impartial assessments of mattress types, brands, and other sleep related products, developed via first party research, third party reviews, and expert research and opinion. In addition, readers receive useful sleep quality tips and news on the latest mattress developments.