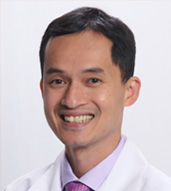 It's part of the profession and we do it because we love it
Orange, Calif. (PRWEB) April 18, 2013
Dr. Thanh Tran, an Allied Anesthesia physician, was recently recognized as a 2013 Leader in Oral Health by Healthy Smiles for Kids of Orange County in recognition of his contributions to improving the oral health of children in the region.
Tran created and coordinates the pediatric sedation training program for USC dental fellows at CHOC Children's Hospital. He and other members of the Allied Anesthesia group participate in the teaching and training.
"We wanted to recognize Dr. Tran's leadership in developing and maintaining the program, which is the only dental residency program in Orange County," said Healthy Smiles CEO Liz Bear.
Healthy Smiles is a nonprofit organization that provides education and dental care to thousands of Orange County children every year and also works with USC and CHOC to increase the number of pediatric dentists in the region. The program graduates two pediatric dentists every year.
Healthy Smiles was established in 2003 to help eradicate the tooth decay epidemic among children in Orange County where one in three children has visible decay.
"At that time, there were less than 60 pediatric dentists in Orange County," Bear said. "Now, there are 85. We realized it wasn't just a matter of getting kids access to treatment, we needed more providers."
Tran said the pediatric sedation training program is a group effort.
"Everyone at Allied Anesthesia joins in to help train these dentists," Tran said. "I'm just the point person who helps the process move along more smoothly."
Tran said the physicians at Allied Anesthesia love to teach.
"We don't think of it as like a chore or duty," Tran said. "It's part of the profession and we do it because we love it."
Nevertheless, Tran appreciates the recognition. He also received two Senate resolutions in recognition of his contributions to the oral surgery residency program at USC from Sen. Mark Wyland, 38th District, and Sen. Lou Correa, 34th District.
"This is just one example of Allied excelling in teaching as well as providing excellent care," said Paul Yost, another Allied Anesthesia physician.
About Allied Anesthesia: With 48 highly qualified anesthesiologists on staff, Allied Anesthesia provides adult and pediatric anesthesia services to St. Joseph Hospital of Orange, CHOC Children's Hospital and many other Southern California healthcare facilities.
Allied specializes in pediatric anesthesia, performing approximately 12,000 pediatric anesthetic
procedures a year. All of the group's anesthesiologists have extensive experience in the care of pediatric patients. All Allied anesthesiologists are board certified, and they staff and manage the most efficient operating rooms in Southern California.
Allied is a member of the California Society of Anesthesiologists and the American Society of
Anesthesiologists.
For more information, visit http://www.alliedanesthesia.com.