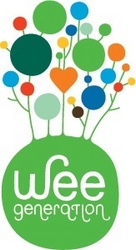 We want parents to have both the empowering information and the useful products they need to help nurture their children in the healthiest way possible. The Wee Generation team is engaging with parents to make children's environmental health top of mind.
BURLINGTON, Vt. (PRWEB) August 6, 2007
When the bag goes on sale to the general public, all profits will benefit Healthy Child Healthy World (HCHW), the nation's leading children's environmental health and eco-advocacy nonprofit. In addition to raising funds for a worthy cause, the project team also intends to use the design opportunity to develop the world's first Cradle to Cradle certified baby bag. A certified Cradle to Cradle bag would embody these elements: environmentally safe and healthy materials, efficient and renewable energy usage during production, socially responsible manufacturing practices and safe decomposition or easy recycling at the end of its useful life.
Leading the partnership with HCHW is Seventh Generation, the nation's premiere provider of non-toxic, environmentally safe household products. Also collaborating are babystyle(R), the premiere maternity and baby boutique that addresses the needs of today's new and expectant families, world-renowned green designer William McDonough, and IDEO, one of the world's most innovative design firms. The collaborative overarching goal is to advocate for a healthier environment for children by focusing on the "living home" and a transformation of ecosystem-impacting consumer products.
"There is no better time to be considering eco-friendly product and habit shifts than when there is a new, vulnerable life in the home," said Christopher Gavigan, executive director of Healthy Child Healthy World. "We want parents to have both the empowering information and the useful products they need to help nurture their children in the healthiest way possible. The Wee Generation team is engaging with parents to make children's environmental health top of mind."
While the bag will make a broader impact in the arena of consumer goods by exemplifying sound environmental design, sales of the bag will also have an important impact as all profits will go to support HCHW's mission of educating parents, supporting protective policies and engaging communities to make responsible decisions. Resulting funds will assure HCHW can continue playing a leadership role in one of the most important public health and environmental movements of the 21st century: children's environmental health.
"This is a thrilling step toward articulating the Cradle to Cradle design mission and to create a new definition of product quality," said William McDonough, green architect and environmental designer. "With this initiative, we have a lifetime opportunity to leave a legacy of environmentally-intelligent design and set an example for others of how products in this category can and should be imagined and brought to life."
The grand prize winner in the Wee Generation sweepstakes receives a Green Nursery Makeover and a chance to "pay it forward" by donating a second makeover to his or her favorite local children's organization. Current parents, expecting parents and interested family members with children young and old are encouraged to enter the sweepstakes, learn, contribute, register to purchase the bag and watch the bag develop at http://www.weegeneration.com.
About Seventh Generation
Seventh Generation is committed to being the most trusted brand of household and personal-care products for your living home. Our products are healthy and safe for the air, the surfaces, the fabrics, the pets, and the people within your home -- and for the community and environment outside of it. Seventh Generation also offers products for baby that are safe for your children and the planet. From chlorine free diapers and wipes to specially formulated Baby Laundry Detergent, Seventh Generation provides you with baby products you can trust. For information on Seventh Generation cleaning, paper, baby and feminine personal care products and to find store locations, visit http://www.seventhgeneration.com.
About Healthy Child Healthy World
Healthy Child Healthy World (formerly Children's Health Environmental Coalition) has been the national leader in safeguarding the health of children and protecting them from harmful environmental exposures for over sixteen years. By educating parents and engaging communities, we encourage everyone to make simple, smart choices that allow our children and families to flourish. To learn more about our work visit http://www.healthychild.org.
About babystyle(R)
Babystyle is the premier maternity and baby boutique, offering a smart, stylish selection of maternity, baby and kids apparel, top-rated gear, unique toys and charming gifts, as well as an easy-to-use baby registry. Shop them online at http://www.babystyle.com or visit their growing family of stores, where expert maternity consultants help moms-to-be with questions about fit and fashion. While you're at it, be sure to check out their online Green Shop for eco-cute clothes, toys, gifts and more.
About William McDonough
William McDonough is a world-renowned architect and designer and winner of three U.S. presidential awards for environmental design. Time magazine recognized him as a "Hero for the Planet" in 1999, stating that "his utopianism is grounded in a unified philosophy that -- in demonstrable and practical ways -- is changing the design of the world." For more on Mr. McDonough, please visit http://www.mcdonough.com.
About IDEO
IDEO is an innovation and design firm that has been independently ranked as one of the most innovative companies in the world. Known for the design of Apple's first mouse and the first laptop computer, IDEO more recently created the Palm V handheld computer, the Mayo Clinic's SPARC innovation center, Bank of America's Keep the Change banking service, and the new Shimano Coasting bike strategy and experience. Today, IDEO is applying its human-centered approach to sustainable design projects in the areas of clean energy, health, and consumer experiences. Find out more about IDEO by visiting http://www.ideo.com.