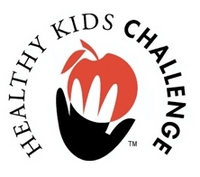 The fantastic support and encouragement to set reachable goals really helped us succeed, said Tutunick.
Wichita, KS (Vocus) August 18, 2009
A report last month from the Robert Wood Johnson Foundation identified the majority of federally mandated school district wellness policies are failing to provide healthy school environments. Healthy Kids Challenge, one of the nation's leading nonprofits supporting healthy lifestyle initiatives for kids and families, is launching a new program aimed at bridging the implementation gap for school wellness policies.
Healthy Kids Challenge director and registered dietitian, Vickie James, announced at a back-to-school news conference that the organization is launching a major initiative to help move schools from policy into action. A new series of toolkits called Health Works, Wellness in Academics as well as an expanded distance assistance program are now available in time for back-to-school.
"Healthy Kids Challenge has a successful record of helping schools implement meaningful wellness actions even before the wellness policy mandates," said James. "Schools begin by identifying interest and needs focusing on nutrition and physical activity and our school challenge coaches assist them by e-mail, phone, Webinars, and through material from our website surrounding wellness solutions that support school initiatives.
Schools also cite a lack of classroom time or financial resources to implement mandated wellness initiatives.
"The key is it has to be about more than a policy and a mandate," said James. "To have successful outcomes, you have to have simple, inexpensive and easy-to-implement solutions that include health as part of each and every school day. In the past three-years, we've really witnessed great strides for those schools using our services," she said.
School Nurse Laura Tutunick from Hunter's Creek Elementary School in Orlando, Florida agreed. "The fantastic support and encouragement to set reachable goals really helped us succeed, said Tutunick. "The assistance was fantastic and helped move (our school) along."
Schools aren't the only groups that can benefit. Individuals and businesses can participate by obtaining healthy eating and active play materials on the Healthy Kids Challenge website including free newsletters and online updates.
"Change starts with the individual" James explains. "We're trying to get a million kids and adults across the country signed up through our Website to participate in the monthly E-challenge, My Healthy Challenge. We invite people to blog and tweet with Healthy Kids Challenge each week with ideas about how they help kids, families, and schools achieve wellness."
These materials can be found at http://www.healthykidschallenge.org
About Healthy Kids Challenge:
Healthy Kids Challenge (HKC), a nationally recognized nonprofit, helps school, community, business, and health leaders take action for kids to eat, move, and enjoy a healthy balance. Created by registered dietitians, Healthy Kids Challenge offers solutions through workshops, events, toolkits, a website, newsletters and programming. Six healthy eating and active play practices make teaching and learning simple and fun.
###