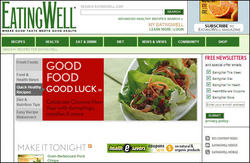 Peterborough, NH (PRWEB) January 21, 2009
Search engine marketing company @Website Publicity announced today the signing of a new client, EatingWell Media Group. The company publishes EatingWell Magazine, an award-winning national consumer magazine; high-quality food and nutrition-related books; a content-rich website and e-mail newsletters. @Website Publicity is providing Paid Search Advertising Management Services and Search Engine Optimization Services to support the multichannel marketing program of EatingWell.com.
EatingWell.com delivers the largest concentration of healthful recipes and award-winning food and nutrition content on the Web. Through an alliance with the Nutrition Department at the University of Vermont, all EatingWell recipes and nutrition content are reviewed by a team of experienced Registered Dietitians and science editors. EatingWell has a 15-year reputation for delivering cutting-edge, authoritative, science-based nutrition articles and delicious recipes that represent a fusion of good taste and good health.
@Website Publicity is a leading search engine marketing company offering integrated services in the area of search engine optimization, paid search advertising, direct product feeds to shopping engines and corporate blogging solutions. Founded in 1998, it serves e-commerce companies, publishers, B to B companies and non-profit institutions. For more information about @Website Publicity, call 800-450-2818, ext. 203, or visit http://www.websitepublicity.com.
# # #