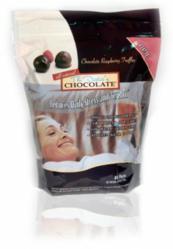 Antioxidant abundant dark chocolate and whole food multivitamins are now available from True Healthy Products, an all natural nutrition company, to help counteract cell oxidation and slow the body's natural aging process.
(PRWEB) November 22, 2011
True Healthy Products, an all natural nutrition company and proponent of healthy eating habits, now promotes healthy dark chocolates and whole food multivitamins that can help counteract cell oxidation and slow the body's natural aging process.
Antioxidants found in natural foods and some dark chocolates are commonly believed to counteract cell oxidation or cell death which is part of the body's natural aging process. Youthful bodies can quickly replace damaged or dead cells, but with aging, this cell replacement process slows. Antioxidants can speed this process up again, which may help to slow the overall effects of aging.
According to the company, a common trend with many shoppers is preventative health through good nutrition with a cornerstone in the consumption of antioxidant rich foods like the healthy dark chocolate, "The Doctors Chocolate" which is featured in the company's "Simple Chocolate Diet".
The Simple Chocolate Diet guide is free and can be found at their web site: http://www.simplechocolatediet.com
True Healthy Products' "The Doctor's Chocolate" is one of several antioxidant rich items in their product line. The formulator of this healthy dark chocolate is Dr. Keith Scott-Mumby who received his formal medical training in the UK. He went on to take a special interest in food allergies and nutrition and has written several popular books on these subjects to help thousands of people simply by changing their diets.
Dr. Keith Scott-Mumby's book "Diet Wise" can be found here and is a remarkable resource:
http://www.truehealthyproducts.com/products/health-wellness/diet-wise-book
"Dark chocolate — but not milk chocolate or dark chocolate eaten with milk — is a potent antioxidant," reported Mauro Serafini, PhD, of Italy's National Institute for Food and Nutrition Research in Rome, and colleagues. Their report appears in the Aug. 28 issue of Nature. "Antioxidants gobble up free radicals, destructive molecules that are implicated in heart disease and other ailments. Our findings indicate that milk may interfere with the absorption of antioxidants from chocolate … and may therefore negate the potential health benefits that can be derived from eating moderate amounts of dark chocolate."
In addition to healthy dark chocolate, you can consume a diet rich in fruits and vegetables to help counter cell oxidation and the effects of free radicals. Typically, the fruits and vegetables with the deeper colors contain the higher amounts of antioxidants.
The company's all natural whole food vitamin "9 A Day Plus" is also full of antioxidants to arrest cellular aging, probiotics for digestive health, and the nutritional equivalent of 100% of RDA (Recommended Daily Allowance) of fruits and vegetable requirements.
For more information about how you can give your body an antioxidant boost using delicious Dark Chocolate or 9 A Day Plus Wholefood Vitamins visit the company's website, TrueHealthyProducts.com
Toll Free: 888-400-2920
2460 N Courtenay Parkway, #210
Merritt Island, FL 32953
USA
###