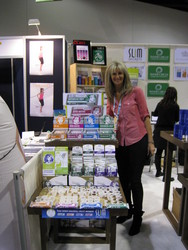 Slim Secrets is such a unique and memorable product. Our branding is really what hooks people then they get hooked on the taste
Anaheim, CA (PRWEB) March 24, 2010
Slim Secrets together with Sandbar distributors teamed up to launch the Slim Secrets healthy snack brand at Expo West in Anaheim last week. The product range with its funky packaging and excellent nutritional profile stood out and was a huge hit at the show.
The crew handed out thousands of samples of Slim Secrets protein based cookies and snack bars. There was a very good, positive buzz about the products at the show and as a result some potential distribution within some chains and smaller outlets in many regions in the US will commence shortly.
The range of products at the show consisted of high protein and fiber, low GI and wheat free snack bars with names such as Morning Rev-Up, Afternoon Snack Attack, Night Time Binge Buster and the extremely popular Mintabolism Boost. Unlike many of the bars seen at the show the Slim Secrets bars are all less than 140 calories, have only 16-19g carbs, 4g or less fat and best of all have 13g protein and 9g fiber.
The Designer Cookies were also a show favorite due to their unique qualities. They are a source of protein and fiber, just 120 calories and include the popular chia seeds. These were some of the reasons for their popularity but in the end their taste won people over. ''A healthy cookie that tastes great and not too sweet is exactly what we are looking for'' was the response from many.
Slim Secrets bars and cookies can now also be purchased online in the US at http://www.sandbardistributors.com .
Slim Secrets were also given to many celebrities that week as part of the 2010 Oscars with great success! Photos can be found on our Facebook Fan page at http://www.facebook.com/SlimSecrets .
About Slim Secrets
Founder and director Sharon Thurin is the Australian-based woman behind Slim Secrets and her philosophy is to promote a healthy lifestyle to her consumers, as the secret weapon for snacking dilemmas.
With degrees in law, arts and diploma in education, weight loss may sound like an unusual field for Sharon to enter into. However, surrounded by family members in the medical and pharmacy industries, Sharon had always had a keen interest in health and weight loss.
So after realising her passion and after many years working as a wellness and weight loss coach, Sharon became increasingly aware of the snacking dilemmas her clients faced.
"Whilst weight loss coaching I noticed that many of my clients ate well at meal times, but often struggled with snacks, or alternatively were so busy during the day that they didn't eat enough and then binged at night," she said. It was during one sleepless night when the mind does funny things that she came up with the idea of producing a range of her own healthy snack products. The unusual names such as 'Afternoon Snack Attack' which she and her clients could relate to came to her that night as well as the notion that the brand had to have a bit of 'spunk' to it.
So it was from here, Slim Secrets was born.
Sharon knows the importance of healthy snacking between meals -- Each snack is specifically crafted for a certain time of the day and is served with a little secret to keep you going.
With Slim Secrets stand out packaging, great taste and proven results, Sharon's business flourished in just four short years.
Slim Secrets now has a national distribution chain through major supermarkets, Juice bars, convenience stores, health food stores, pharmacies, health practitioners, Fitness First and other gyms, personal trainers and cafes.
Slim Secrets also exports to New Zealand, China, Singapore, Canada, Japan, Bahrain, US and looks like adding India and UK to the list.
"We have been thrilled that overseas markets have embraced Slim Secrets in the same way Australia has and as we embark on entering the American market this is a really exciting time for us. The US has the biggest weight loss industry in the world," she said.
"Slim Secrets is such a unique and memorable product. Our branding is really what hooks people then they get hooked on the taste," she said.
''Our packaging and the way it communicates our brand's ideas to our consumers is what truly sets us apart.
''We are light-hearted, but still 'on the level', so we appeal to such a wide audience both male and female from 18 to 50 year olds.''
For more information go to http://www.slimsecrets.com.au
Contact email Nicole or Sharon at info(at)slimsecrets(dot)com(dot)au
PH: +613 98223121
Contact US distributors: Kendall Anthony at kanthony(at)sandbardistributors(dot)com
###