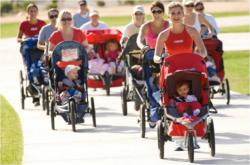 It's a fantastic way for mommies and babies to get out and make some new friends.
FORT LEE, New Jersey, (PRWEB) June 17, 2013
Exercising with baby is nothing new to modern moms, who have been incorporating their offspring in yoga workouts, running regimens, bicycling and other exercise routines for years. Now, a group called Stroller Strides has developed a new take on another trend that involves groups of moms, babies and strollers all working out together in groups.
In a June 14, 2013 blog titled "FIT4MOM Uses Babies in Strollers to Help Moms Get Fit," Marble Media LLC guest blogger Liz Ernst discusses the benefits moms get from meeting with other moms to work out, share experiences, and enjoy the mutual support of like-minded women who are looking to stay fit with baby in tow.
Since 2001, Stroller Strides founder Lisa Druxman and her team has created workouts for women as part of a program called FIT4MOM. This comprehensive program has classes for pregnant women and moms whose little ones range in age from newborn to toddler, offered at 1,300 locations throughout the country.
"FIT4MOM aims to get moms as healthy as possible, and also works to help moms to be as happy as possible," Ernst says. "Through their Stroller Strides and Stroller Barre classes, moms can participate in power walking and toning classes, as well as Pilates and yoga classes that incorporate their babies and their strollers.
"It's a fantastic way for mommies and babies to get out and make some new friends."
Stroller Strides is a total fitness program for moms and moms-to-be. Each 60 minute class includes power walking/jogging combined with intervals of strength and body toning exercises using baby, stroller, and the environment. Classes are taught by specially trained and certified fitness instructors who engage babies with songs and activities incorporated into each workout. Classes can be modified to meet the needs of moms at all fitness levels.
For more information, visit the HealthyforMommies.com website or email info(at)healthyformommies(dot)com.
About Marble Media LLC:
Marble Media LLC is a creator of high-quality, content-rich blog sites that provide expansive coverage of relevant information to readers who make up a wide range of demographics. The Marble Media LLC team of expert writers covers a wide range of specialties including travel, food, health, fitness, social media, marriage, parenting, technology, weight loss, fashion and much more.
For more information on Marble Media LLC's offerings and advertising opportunities, visit the MarbleMediaLLC.com website, or email sales(at)marblemedia(dot)com.