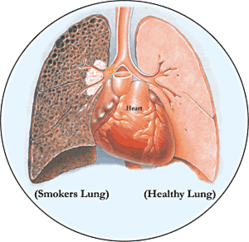 "For breath is life, and if you breathe well you will live long on earth." - Sanskrit Proverb
Fairfax, VA (PRWEB) October 11, 2012
October is healthy lung month! Protecting your lungs will help you live and healthier life.
To help protect your lungs; here are some important things you can do to reduce the risk of disease:

Don't Smoke: Cigarette smoking is the major cause of lung cancer and chronic obstructive pulmonary disease. (COPD).
Avoid Exposure to Pollutants: Avoid exercising outdoors on bad air days. Make your home and car smoke free.
Prevent Infection: Get vaccinated every year against influensa. Talk to your healthcare provider to find out if the pneumonia vaccine is right for you.
Aerobic Excercise: Increase aerobic activity, the lungs adapt by creating more blood vessels both to irrigate the lung tissues and to absorb more oxygen, thus becoming stronger and healthier.