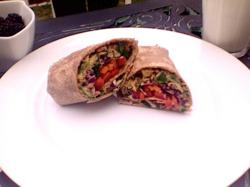 Wichita, KS (PRWEB) April 18, 2012
Healthy Kids Challenge, a leading non-profit educating families to eat, move and enjoy a healthier balanced lifestyle, has announced the winners of their 10th annual Stirring Up Health™ national recipe contest. Thousands of 7th and 8th grade students used their imaginations to create healthy recipes using USDA's MyPlate guidelines.
Executive Director, Vickie James, announced the three winners for the annual contest.
"We're amazed every year at the creativity that our kids possess," said James. "This just goes to show that given the proper tools, kids can make creative healthy choices for themselves. That's what this contest offers and why Healthy Kids Challenge is such a unique, successful organization today."
Individual students and entire classrooms participated in the contest, using whole grains, fruits, vegetables, lean proteins and low fat dairy to make their recipes healthier. Kids were also challenged to write an essay about what other foods to serve with their recipe to complete a healthy USDA MyPlate.
Justin Brownell, a 7th grade student from Van Wyck Junior High School in Wappingers Falls, New York, enjoys trying healthy new foods and tastes.
Brownell said, "After eating at a Thai restaurant and liking a seafood dish with peanut sauce, I tried to create something similar to fix at home." Brownell developed his PB&T winning recipe using tuna, vegetables, whole grain wrappers and a flavorful sauce. Brownell's recipe, along with a piece of fruit and a glass of skim milk, completes a MyPlate meal.
Emma Williams, a 7th grade student from Harding Academy, Searcy, Arkansas was announced a winner with her Fruity Chicken and Rice Salad recipe. Williams uses the MyPlate guidelines in her recipe that includes fruit, protein, vegetables and whole grains.
"I came up with this recipe so I could make a fast and healthy school lunch instead of "just" a plain sandwich," said Williams.
As a creative project, Gretta Marzon's 7th grade Foods and Consumer Science class at Switzerland County Middle School in Vevay, Indiana prepared a MyPlate breakfast meal and submitted the recipes. The Brunch Egg Casserole by Kelli Hart, Abby Christman and Paige Works was chosen as the winner for its colorful and healthy use of vegetables in a breakfast recipe.
"I had a very enthusiastic group of students in this class and when I brought up the idea of entering the recipe contest with them, they were excited to try," said Marzon. "It was a great learning experience for them and I may make entering the contest a routine class project."
Each of the individual winners and Mrs. Marzon's class will receive presentations at their school from a Johnson & Wales University culinary chef who will prepare the winning recipes with assistance from students.
The Home Baking Association provided online food demonstration videos and teacher lesson plans to enhance the classroom experience for the contest. According to the Home Baking Association, teaching students the importance of healthful cooking offers positive benefits throughout their lives.
Johnson & Wales University, a Healthy Kids Challenge Partner in Health, has been inspiring winning classes since the beginning of the 10-year contest. Similar to the Chef's Move to Schools program, the chefs combine demonstration of culinary skills with ideas for preparing healthier foods.
About Healthy Kids Challenge
Healthy Kids Challenge is a nationally recognized nonprofit that educates and empowers influencers to take action for kids and families to Eat, Move, and Enjoy a Healthy Balance™. Created by registered dietitians, Healthy Kids Challenge offers solutions through workshops, events, toolkits, a website, newsletters and programming. Six healthy eating and active play practices make teaching and learning simple and fun. Find innovative resources at http://www.healthykidschallenge.com.