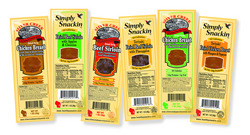 "Our success midway through 2010 confirmed our belief that internet-based direct retailing can be a viable option," said Kramlich. "That was all the proof we needed to begin development of a new website."
Oshkosh, WI (PRWEB) March 9, 2011
How does one create a business that can thrive in an economy that is slow to mend? It is as simple as giving people something of value. Start-up company Healthy Snackin believes they are doing exactly that by creating and providing healthy meat snacks through their ecommerce website http://www.HealthySnackin.com.
"We offer a savory treat with no regrets; a snack that is both nutritious and delicious," said Co-Founder Sue Kramlich.
E-commerce deserves much of the credit for Healthy Snackin's 400% sales increase. Reviews from the likes of foodie and snacking aficionado Lisa Lillien, who is better known in healthy eating circles as Hungry-Girl, created a surge in online retail sales. Lillien recently featured Healthy Snackin in her Hungry-Girl blog, Top Ate Finds of 2010.
"Our success midway through 2010 confirmed our belief that internet-based direct retailing can be a viable option," said Kramlich. "That was all the proof we needed to begin development of a new website."
Healthy Snackin unveiled their new website this week, http://www.HealthySnackin.com, which features a picture and content rich design and storefront.
"Our goal was to provide an easy to navigate store with a streamlined ordering process and an elegant design featuring honest, interesting content. We also wanted to tell our story and really give the website some personality. I believe we did it."
The future of snacking looks bright as Healthy Snackin is continuing to develop new recipes and ideas to provide additional snacking experiences.
"We look forward to continue providing a nationwide storefront which will offer products with pure, savory flavor thanks to an artisanal process using only quality ingredients," said Kramlich.
About Healthy Snackin:
Healthy Snackin is an e-commerce based company founded in 2009 by husband and wife duo Tom and Sue Kramlich. Tom and Sue utilized their experience with specialty meat products to create Healthy Snackin's Simply Snackin line of gourmet dried meat snacks . Healthy Snackin uses only lean natural beef sirloin or chicken breast meat and a combination of spices, fruits and cheeses teamed with a leisurely roasting process. The meat snacks are all made without MSG, Trans Fats or fillers, are only 50 calories and feature six flavors, four of which are gluten free including beef sirloin with cranberries & blueberries, and chicken breast with black bean salsa and Wisconsin cheddar cheese.
###