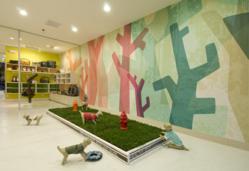 We feel we are improving the lives of the pets and in turn their parents by providing healthy happy lifestyle solutions.
Marina del Rey, CA (PRWEB) November 09, 2012
Healthy Spot is more than just committed to providing quality products for your animal companions. The all-in-one pet retail company has opened its third location in Marina del Rey, giving owners an opportunity to experience a new way of providing the holistic and natural options for their four-legged friends.
The new 4,300 square foot store in Marina del Rey – at 4718 Lincoln Blvd. -offers pet lovers a full range of premium organic and natural foods, supplies and eco-friendly toys, in addition to a full-service grooming salon/spa and small dog daycare center.
The inception of Healthy Spot was sparked by massive pet recall in 2007, which really highlighted the absence of a retail partner in the market for consumers that were solely focused on the well being of our furry family members. They began with the nutrition and then expanded to other products and services seeking to establish a new bar in the pet industry. Healthy Spot is the lifestyle brand for the modern pet parent.
Like the motto, "Healthy Spot, for your dog's mind, body and bowl," Healthy Spot has made it their mission to not only cater to animal's but also to the family members who take care of them. Unlike many big box cookie-cutter pet stores, Healthy Spot customers will be welcomed by pet professionals who are dedicated to owners and their needs with an environment that is just as organic as the products being sold. They are extremely community centric and host an array of events, from dog rescue adoptions, dog trainings to monthly "Yappy Hours" for their customers and four-legged friends.
Co-owners Andrew Kim and Mark Boonnark recognize the importance of holistic pet care and that is why their stores offer high-quality healthy products to ensure a dog's tail is endlessly wagging and cats are forever purring.
"We are most proud of all the lives we have been able to change through our stores through nutrition and education. We feel we are improving the lives of the pets and in turn their parents by providing healthy happy lifestyle solutions. Seeing customers who have struggled for years with health conditions of their companion animals and being able to change the health dramatically is intrinsically rewarding. We are more than a retail store, we are a wellness and education center in the community," said Andrew Kim, co-founder of Healthy Spot.
###
About Healthy Spot
Healthy Spot is an all-in-one dog care retail company that offers customers a full range of premium, eco-friendly products along with award-winning, personalized grooming, daycare and training services. Healthy Spot is dedicated to fostering social awareness of better canine care practices and humane animal treatment through their constant commitment to philanthropic and community involvement. "Healthy Spot, for your dog's mind, body and bowl"
Other store locations:
-Santa Monica, 1110 Wilshire Blvd. Santa Monica, CA., 90401 Phone: 310. 458.2004
-West Hollywood, 8525 Santa Monica Blvd. West Hollywood, CA., 90069 Phone: 310. 657.2400