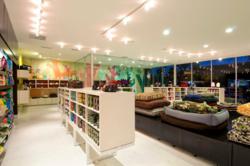 Pet Product News International announced Healthy Spot as recipient of Outstanding Natural Pet Store Award
Los Angeles, CA (PRWEB) October 03, 2012
In its annual contest to select the outstanding pet industry retailer, Pet Product News International, the leading monthly trade news magazine covering the issues and trends affecting all sectors of the professional pet industry, announced Healthy Spot as recipient of Outstanding Natural Pet Store Award, which is part of the magazine's prestigious Retailer of the Year award program.
Pet Product News International announced the award in the September 2012 issue of the magazine and will profile the retailer in the July 2013 edition. The overall winner and the 11 special recognition winners are each given a seat on the Pet Product News International Retail Advisory Board as part of the award program.
Healthy Spot, owned by Andrew Kim and Mark Boonnark, is at the forefront of the natural/organic and eco-friendly movement within the pet industry. With three Southern California locations, Santa Monica, West Hollywood, and recently opened Marina Del Rey, the lifestyle-oriented stores are a must-shop destination for owners seeking premium products and services for their four-legged companions. Healthy Spot offers its health-conscious customers a wide range of organic pet foods and treats, as well as natural and eco-friendly toys and accessories of all kinds. Its pet services run the gamut from daycare to grooming to obedience training, while pet owners can take advantage of educational seminars and delivery. Healthy Spot is also active in its community, hosting monthly "Yappy Hours" and adoption events with local rescue groups and shelters, donating products and services to charities—both pet- and people-related—and promoting sustainable living on a day-to-day basis.
The Retailer of the Year Awards were created 20 years ago to recognize retail excellence in the pet industry. Candidates are initially selected from applications distributed to retailers via the magazine, PetProductNews.com and trade shows. Retailers are then reviewed and evaluated by members of Pet Product News International's award panel on such criteria as promotion of companion animals, involvement with professional and service organizations, innovative promotion, effective strategies in the marketplace, community and industry impact and employee training practices.
The Retailer of the Year contest is sponsored this year by World Pet Association (WPA), the oldest pet industry trade association and organizer of the annual SuperZoo trade show.
About Pet Product News International
Pet Product News International (PetProductNews.com) is the leading business news magazine covering the issues and trends affecting all sectors of the professional pet industry, including—but not limited to—retailers, manufacturers, distributors and trade associations. Pet Product News International is published by BowTie News, a division of BowTie Inc., the industry leader in consumer pet and veterinary trade publishing. You can find BowTie Inc. and its magazines on the web at AnimalNetwork.com.
About Healthy Spot
Healthy Spot is an all-in-one dog care retail company that offers customers a full range of premium, eco-friendly products along with award-winning, personalized grooming, daycare and training services. Healthy Spot is dedicated to fostering social awareness of better canine care practices and humane animal treatment through their constant commitment to philanthropic and community involvement. "Healthy Spot, for your dog's mind, body and bowl"