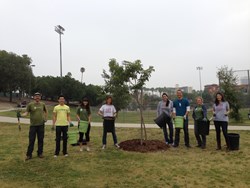 "We are excited to partner with the Honest Kitchen and our customers to support the TreePeople's sustainability and greening initiative in our local communities."
Los Angeles, CA (PRWEB) November 01, 2013
Healthy Spot, a pioneering independent pet supplies and services boutique, and The Honest Kitchen, a producer of healthy all natural pet food products, today announced a one year partnership with Los Angeles non-profit organization TreePeople, to help plant trees and conduct other important environmental initiatives in Los Angeles's urban areas.
Beginning November 1st, 2013, every purchase of a 10 lbs box of The Honest Kitchen's dog food at Healthy Spot locations in the greater Los Angeles area will directly support TreePeople's work in greening the city.
"We are excited to partner with the Honest Kitchen and our customers to support the TreePeople's sustainability and greening initiative in our local communities. We are eager to see what we can do together in this new program," stated Andrew Kim, one of Healthy Spot's co-founders.
TreePeople has a long-range vision to make Los Angeles greener, healthier, and more sustainable. TreePeople involves citizen volunteers and local businesses engaging with each other to grow L.A.'s tree canopy and create a secure and clean water local supply, for example by:

Mobilizing neighborhood volunteers to plant and care for trees.
Caring for trees to shade walkways, streets, buildings and recreation areas to reduce energy and water use.
Unpaving hard asphalt surfaces and restoring healthy soil that enables rainwater to soak into the ground.
Ensuring downspouts direct rainwater into the ground instead of running off onto pavement and into storm drains.
Establishing native and drought-tolerant plants and grasses to reduce the need for irrigation.
To celebrate the new partnership, Healthy Spot, The Honest Kitchen and TreePeople kicked off the program with a volunteer and media event at Pan Pacific Park (Beverly Blvd & N Sierra Bonita Ave, Los Angeles, CA 90036) last Friday, October 25th, 2013.
"We're so excited to partner with the three Healthy Spot locations in greater Los Angeles area through our Pawlanthropy program for charitable giving to support TreePeople, in their efforts to grow a sustainable future for Los Angeles," commented The Honest Kitchen's founder and CEO, Lucy Postins.
Find a Healthy Spot Location (http://www.healthyspot.com/store-locations)
Learn more about The Honest Kitchen (http://www.thehonestkitchen.com)
About Healthy Spot
Healthy Spot is an all-in-one dog care retail company that offers customers a full range of premium, eco-friendly products along with award winning, personalized grooming, daycare and training services. Healthy Spot is dedicated to fostering social awareness of better canine care practices and humane animal treatment through their constant commitment to philanthropic and community involvement. For more information, visit http://www.healthyspot.com.
"Healthy Spot, for your dog's mind, body and bowl"
About The Honest Kitchen
The Honest Kitchen produces a line of dehydrated human-grade whole foods for dogs and cats, which are made with love in a human food facility (not in a pet food plant) for the highest possible quality standards. Dehydration is a gentle technique that removes only the moisture and retains most natural nutrients found in raw, whole foods. The private, family-owned company was founded by British Immigrants Lucy & Charlie Postins in 2002, and is based in San Diego CA. The company employs twenty-six people and twelve dogs. The Honest Kitchen's products are developed with uncompromising attention to detail, by a company of pet lovers with a passion for food. For more information, please visit http://www.thehonestkitchen.com.
About TreePeople
Celebrating its 40th anniversary in 2013, TreePeople is an environmental nonprofit that unites the power of trees, people, and nature-based solutions to grow a greener city. TreePeople involves people of all ages in environmental education, forestry programs, demonstration projects, and policy outreach initiatives that make Greater Los Angeles a healthier and more sustainable city. To learn more, visit http://www.treepeople.org.