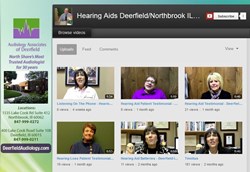 I was very lucky to have found Audiology of Deerfield. I couldn't have gone to a better Audiologist than Sheri.
Deerfield, IL (PRWEB) April 29, 2013
Audiology Associates of Deerfield has added a new section to their website to exhibit hearing aid and hearing loss reviews and testimonials collected from area residents. The new section on the site - located at http://www.deerfieldaudiology.com/reviews.php - provides an area to share the hearing aid, hearing loss, tinnitus and hyperacusis experiences of former and current patients of the practice. Dr. Sheri Gostomelsky Au.D. is pleased to present this new enhancement observing that it's very beneficial for potential patients to be able to see themselves in the experiences of others. So many Americans suffer with hearing problems and it truly is vital for them to understand that they are not by themselves and that solutions do exist. Audiology Associates of Deerfield hopes that web visitors will find shared experiences and a sense of community on the new hearing aid reviews and testimonials section. The video testimonials can also be accessed via the company's YouTube channel devoted to hearing aid information and hearing aid reviews.
Audiology Associates of Deerfield would like to note that hearing loss has many different underlying causes and web visitors should not try to diagnose themselves. Any symptoms including hearing loss, ringing in the ears or pain should be evaluated by a qualified audiologist. A physical exam and hearing test are the first step in understanding the source of the hearing loss. The solutions that have worked for the other patients featured on our testimonials page, will not be appropriate in all cases.
About Dr. Sheri Gostomelsky, Au.D.
Dr. Sheri Gostomelsky, Au.D. is the primary audiologist at Audiology Associates of Deerfield serving both the Deerfield IL and Northbrook IL locations. Dr. Gostomelsky earned her Bachelors Degree in Speech and Audiology at the University of Illinois, in Champaign IL, her Masters Degree in Audiology at Illinois State University, and her Audiology Doctorate from the Arizona School of Health Sciences. Dr. Gostomelsky is board certified by the American Academy of Audiology, is licensed through the State of Illinois, and maintains membership in the Academy of Dispensing Audiologists, Illinois Academy of Audiology, and the American Academy of Audiology.
About Audiology Associates of Deerfield, PC:
Audiology Associates of Deerfield, PC has provided hearing aids in Deerfield, Illinois and its surrounding communities for years. The company offers a full range of diagnostic and preventative hearing healthcare professional services, including hearing aid screening, evaluations, hearing aids sales and rehabilitative and preventative counseling. The staff at Audiology Associates of Deerfield, PC is dedicated to keeping abreast of the latest improvements in technological advancements in the hearing industry and is committed to offering the most current options to our patients.
Contact:
Dr. Sheri Gostomelsky
http://www.deerfieldaudiology.com
Audiology Associates of Deerfield, PC
400 Lake Cook Road, Suite 108
Deerfield, IL 60015
(847) 999-0211
Audiology Associates of Deerfield, PC
1535 Lake Cook Road, Suite 412
Northbrook, IL 60062
(847) 999-0272