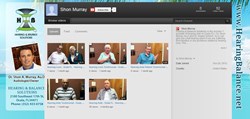 Dr. Murray runs the most professional and state-of-the art facility in the Ocala area.
Ocala, FL (PRWEB) April 22, 2013
To better support the hearing care needs of Ocala FL, Hearing & Balance Solutions has added a hearing aid and hearing loss testimonials page to their website. The new page will feature video testimonies and written reviews about hearing loss, hearing aids, tinnitus and various other issues that prior and current patients have granted permission to be posted. Hearing & Balance Solutions is delighted about the new section because it will help visitors see themselves in the experiences of others and help destigmatize hearing problems and hearing aids. People with hearing loss need to understand that they are not alone in their attempts to locate solutions. Solutions such as hearing aids are available. The new hearing aid reviews page will help the residents of Ocala FL find a community of people that have gone through the same experience. Any video testimonials will be posted on the accompanying YouTube channel and tagged with Ocala FL hearing aids reviews.
There are many different reasons for hearing loss, and visitors to the website should not try to diagnose themselves. Only a qualified audiologist can properly evaluate symptoms such as ear pain, ringing in the ears or hearing loss. Diagnosing the underlying hearing loss cause generally starts with a hearing test and physical examination of the ears. The stories and solutions featured on the new testimonials pages may not apply in all situations.
About Dr. Shon A. Murray:
Dr. Shon A. Murray, Owner and Audiologist at Hearing & Balance Solutions, specializes in the treatment and care of hearing and balance disorders. Dr. Murray offers services to the pediatric population all the way to the most mature lifestyles. He received his Doctorate in Audiology at the University of Florida and has had formal training with other specialties including otolaryngology, speech pathology, physical therapy, and a venue of other audiologic areas. He is a member of the American Speech and Hearing Association (ASHA) where he holds the Certificate of Clinical Competence in Audiology (CCC-A).
About Hearing & Balance Solutions:
Dr. Murray has provided hearing aids in Ocala, FL and its surrounding communities for more than 10 years. The company offers a full range of diagnostic and preventative hearing healthcare professional services, including hearing aid screening, evaluations, hearing aids sales and rehabilitative and preventative counseling. Hearing & Balance Solutions is dedicated to keeping abreast of the latest improvements in technological advancements in the hearing industry and is committed to offering the most current options to its patients.
Contact:
Dr. Shon Murray
http://www.hearingbalance.net
Hearing & Balance Solutions
2100 Southeast 17th Street
Ocala, FL 34471
(352) 433-0758