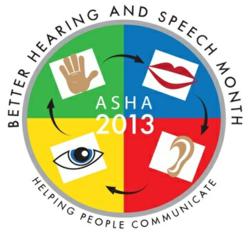 West Valley, NY (PRWEB) May 29, 2013
Lara Gilbert has just recently become a new customer of Hearing Aid Sweat Bands. Her son Chasen has been almost entirely deaf since birth. During the month of the May, the hearing and speech community spreads a message of education and understanding to the public. Their story is reflective of the type of situations that many Americans experience everyday while living with hearing loss and speech difficulties.
Lara's son Chasen was born with hearing loss in both ears. He was fitted for his first hearing aids at eight weeks. Their journey since then has been both challenging and inspiring. "What followed was a battery of testing; testing and retesting his ears to get the hearing aids adjusted as needed. Testing to determine the cause of hearing loss, testing to make sure nothing else was amiss," said Lara.
After working with Deaf and Hard of Hearing (DHH) teachers, the family decided that total communication was the best option for their family. Total communication involves using a variety of modes of communication such as signed, oral, auditory, and written and visual aids, depending on the needs of the child. The teachers worked with the family every week to introduce them to deaf culture and to a variety of communication options. They were taught how to take care of hearing aids and also where to turn for support for questions and frustrations. "At some point during his first year we were introduced to Hands and Voices, an organization dedicated to giving DHH families the information and support they need to thrive. Through this organization we attended picnics and other social events for DHH families," Lara said.
When Chasen was a year old, they explored the option of a cochlear implant for his left ear, as he wasn't responding to hearing aids in that ear. At 16 months, Chasen was implanted. Lara remembers how overjoyed they were to see Chasen respond, "What a wonderful device! The world of hearing simply opened up for him. It made me cry to watch him dance to music."
Despite the success of Chasen's implant, the Gilberts were relieved to have developed an understanding of ASL. They felt confident as Chasen was fast approaching the "age of frustration" (when the child knows what they want but cannot find the words) that they would be able to communicate through sign.
Following the implant, the family tried to get Chasen into speech therapy. "One of the most frustrating experiences we've had is finding a speech therapist who works specifically with kids with hearing loss and cochlear implants," Lara explained. "But, they do exist! About 10 months ago, our family got to the top of the waiting list, and we were assigned a Deaf Mentor. Deaf Mentors is a program sponsored through the state of Minnesota which pairs a family with DHH children with a Deaf Mentor to help them learn ASL and give them the opportunity to experience Deaf culture."
Chasen is now three years old and has been doing very well. He is speaking in sentences, signs many words and a few sentences, and is continually reaching new milestones. "He recently started asking, 'Why?' Some parents cringe at this question," Lara said. "For us, it is a milestone we've been looking forward to. 'Why' is an abstract concept that needs layers and layers of understanding language and experiencing communication before it can be wondered aloud."
Moving forward, Lara is hopeful that Chasen will continue to further progress, "We hope we're setting up Chasen for success in life and in relationships by giving him the opportunity to communicate with both his family and all of our hearing friends and by becoming part of the Deaf community, where we hope to make new lasting friendships."
The family has still never found out the cause of Chasen's hearing loss. "I'm not sure what God has in store for our family or for Chasen, but I do know that Chasen was given to us just as he was supposed to be, just as he is."
About the Company:
VanB Enterprises of West Valley, New York, was founded by Ramon VanBuskirk, who invented the company's leading product, The Hearing Aid Sweat Band™, to meet his personal need for moisture control for his behind the ear hearing aids. VanB Enterprises, which launched its hearing aid cover product in the late 1980s, is operated by VanBuskirk's son, Scott. The e-commerce website http://www.hearingaidsweatband.com provides information about sizing, colors, and additional information about The Hearing Aid Sweat Band™ hearing aid accessory and the benefits it provides to hearing aid users.
"Like" Hearing Aid Sweat Bands on Facebook at https://www.facebook.com/pages/Hearing-Aid-Sweat-Band/209237289107266?fref=ts.
Please email VanB Enterprises to sign up for their mailing list, which offers news and updates regarding their products two to three times per year.