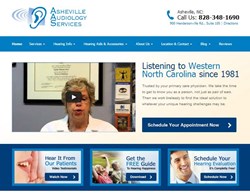 You don't have to let hearing loss affect your quality of life. We want to offer you hope…and hearing help.
Asheville, NC (PRWEB) June 28, 2013
Record numbers of adults are experiencing hearing loss and younger at younger ages. Whether the hearing loss is caused by loud music players, military service, disease or aging, people who have experienced hearing loss often look online for current, accurate information about their condition and treatment options. With the launch of its redesigned website at http://www.ashevilleaudiology.com, Asheville Audiology Services is helping connect the residents of Asheville NC with quality hearing healthcare resources.
The new Asheville Audiology Services website is divided into several sections. The Services section covers the four most common services offered - hearing aids, hearing tests, balance tests, and tinnitus therapy. The Hearing Info section contains educational content about the physiology of the ear and what happens when a person is suffering from hearing loss or tinnitus. The Hearing Aids and Accessories section details all the available hearing aid styles and digital technologies. The About Us section provides background information on Asheville Audiology Services as a practice and contains a complete biography and list of qualifications for Dr. Cynthia Earle, the primary audiologist. The Location tab allows web visitors to bring up a map to the practice on their computer or mobile device. The Reviews section will feature a growing list of success stories from Asheville NC residents. The Blog section has weekly featured articles on a variety of current topics surrounding hearing healthcare.
Owner, Dr. Cynthia Earle, Au.D. encourages first-time website visitors and new patients to review the extensive video testimonials from patients, download the no cost Guide to Hearing Happiness and schedule an initial, complimentary hearing evaluation. Returning patients can use the scheduling button and contact form on the website to book an appointment or submit a question to the audiology staff.
The entire team at Asheville Audiology Services is very excited about the launch of the new website and looks forward to the positive impact it will have providing high quality hearing information to people seeking hearing aids in Asheville NC.
Contact:
Dr. Cynthia Earle, Au.D.
ashevilleaudiology.com
Asheville Audiology Services
900 Hendersonville Rd. Suite 105
Asheville, NC 28803
(828) 348-1690