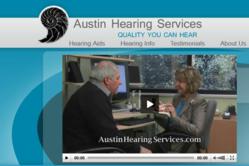 The best decision I ever made! Offered excellent service in identifying my hearing needs and fit me with the hearing aids that has made a tremendous difference in my life and that of my family. Thank you Austin Hearing Services.
Austn, TX (PRWEB) October 20, 2012
Austin Hearing Services, the leading provider of hearing aids in Austin is pleased to announce the launch of its new website at austinhearingservices.com and accompanying educational YouTube channel. The website contains a wealth of new resources including information about digital hearing aids, choosing the right style of hearing aid and the expected cost for various features and services. In addition to improved content, the new website also makes it much easier to schedule an appointment. The Austin Hearing Services YouTube channel has over 40 videos – most directly from Dr. Margaret Hutchinson herself – that address the most common question she is asked about hearing aids in Austin TX. Visitors will find answers to questions about why hearing loss occurs, hearing aid technology and hearing aid maintenance and repair.
Austin Hearing Services was founded in 1999 by Dr. Margaret Hutchison. Dr. Hutchinson received her Bachelor of Science (BS) degree in Biological Sciences from Southern Illinois University and a Master of Science (MS) degree in Communications Disorders from the University of Texas at Dallas. She completed her doctoral studies at the University of Texas at Dallas earning a Doctor of Philosophy (PhD) in Human Development and Communications Disorders in 1996. Dr. Hutchinson has multiple publications in the field of audiology and is a frequent conference speaker. She has been cited in Notable Women of Texas and Who's Who In Science and Engineering. The American Academy of Audiology honored Margaret with the Academy's Scholar Award in 2011. She is Board Certified in Audiology and a member of the American Auditory Society, the American Academy of Audiology, the American Speech and Hearing Association, the Academy of Rehabilitative Audiology and the Society for Neuroscience.
The website redesign demonstrates Austin Hearing Services' continued efforts to help its patients throughout the process of purchasing a hearing aid from the initial research to the final fitting.The entire staff at Austin Hearing Services is looking forward to the impact that the new website will have with patients looking for hearing aids in Austin TX. To see the new website design, and to learn more about Austin Hearing Services, visit austinhearingservices.com.
Contact:
Austin Hearing Services
6805 North Capital of Texas Highway #265
Austin, TX 78731
(512) 851-0847
http://austinhearingservices.com