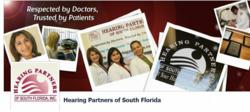 Battery Club members receive 7 packs of premium quality hearing aid batteries for the price of six.
Boynton Beach, FL (PRWEB) November 02, 2012
Renowned hearing services clinic Hearing Partners of South Florida has just introduced an excellent promotional offer for people using hearing aids in Boynton Beach FL. The patients of the clinic can now get excellent savings on hearing aid batteries with the new Battery Club promotion that offers 7 packs of batteries for the price of six. Hearing Partners of South Florida is known to offer different lucrative promotions for their patients from time to time. Their latest Battery Club promotion not only offers excellent savings for their patients, but also frees them from worrying about shopping for hearing aid batteries forever. Availing this promotional offer is a breeze, and one is only required to deposit $36 in their battery account. New sets of batteries will be sent whenever they call Hearing Partners of South Florida requesting them. Most importantly, the recipients need not pay any shipping charges for the batteries.
Over the years, Hearing Partners of South Florida have built a reputation in the region as a comprehensive hearing service provider under one roof. The introduction of this offer has already generated interest among users of hearing aids. Cynthia, a regular visitor to Hearing Partners of South Florida expressed her satisfaction about their just launched Battery Club promotion saying, "I am almost 70 years old now, and it is never easy for me to find out new batteries from different sources. I have already applied to avail this offer and am expecting my first set of batteries to arrive shortly".
Hearing Partners of South Florida is the top hearing service clinic in and around Boynton Beach FL. Hearing Partners of South Florida is a family owned practice that has been offering top of the line hearing care in this region for quite some time and was voted as the number one Audiology practice in Boynton Beach. The range of service available at Hearing Partners of South Florida includes hearing evaluations, instrument selections, all types of repairs, comprehensive balance evaluations, assistive devices, aural rehabilitation, and much more. Apart from their world class treatment facilities, they also have an in-house repair lab, offering repair services for all types of hearing aids.
Contact:
Dr. Nimet Adams
http://myhearingpartners.com
Hearing Partners of South Florida
10151 Enterprise Ctr. Blvd. Suite 107
Boynton Beach, FL 33437
(561) 404-0365
Hearing Partners of South Florida
4731 W. Atlantic Ave., Suite B20
Delray Beach, FL 33445
(561) 404-5650