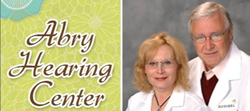 The company known for great customer service and for hearing advancements in Cedar Rapids is now offering complimentary hearing assessments to patients.
Cedar Rapids, IA (PRWEB) December 28, 2012
Abry Hearing Center, the audiologist known for providing hearing aids in Cedar Rapids, makes available free hearing evaluations for new and returning patients. After the complimentary evaluation, the doctors will discuss results with the patient and help them decide what options they might want to consider. Abry Hearing Center is dedicated to providing its clients with the best audiology advancements and hearing aid information. The founders of Abry Hearing Center started the company to provide local residents the best hearing aid services and to offer them expert education, superior technology and excellent customer service.
The evaluations are available on a limited basis, so patients should call to make an appointment at least a week in advance due to their busy schedule. These are no-obligation appointments, and the staff at Abry Hearing Center is highly trained in helping patients with their hearing and audiology needs.
Bill Fletcher, Owner and President of Abry Hearing Center in Cedar Rapids, Iowa, attended college in Chicago, IL. After college, Fletcher joined a major electronics company as a systems design engineer. Knowing that he liked people and entertainment, Fletcher studied healthcare with a major in hearing healthcare science. He purchased an established 56-year-old hearing practice in Cedar Rapids, Iowa. Since that purchase, the practice has become the fastest growing hearing healthcare practice in the area. Known for "best-in-class" hearing instruments and quality service, Abry Hearing Center solves hearing problems with a "human touch."
About Abry Hearing Center:
Abry Hearing Center has provided hearing aids in Cedar Rapids IA and its surrounding communities for several years. The company offers a full range of diagnostic and preventative hearing healthcare professional services, including hearing aid screening, evaluations, hearing aids sales and rehabilitative and preventative counseling. Abry Hearing Center offers clients hearing aids, hearing testing, hearing aid repairs, hearing aid evaluations, video otoscopy, speech mapping, and nationwide warranties. The Abry Hearing Center website offers visitors information about all of these services and also offers a variety of information about hearing and hearing aids. The site even offers an online hearing test for adults. People who have tried hearing aids from Abry Hearing Center have been very satisfied with the service they receive. Abry Hearing Center of Cedar Rapids, IA is located on Center Point Road in Cedar Rapids. Those who want to learn more can visit the company's website or call for an appointment.
Contact:
Mr. Bill Fletcher
http://cedarrapidshearing.com
Abry Hearing Center
3741 Center Point Road Northeast
Cedar Rapids, IA 52402
(319) 540-8276