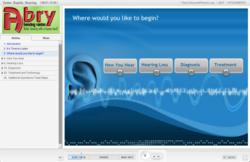 Take the worry out of buying your first hearing aid.
Cedar Rapids, IA (PRWEB) October 07, 2012
Abry Hearing Center is getting a lot of attention from those in need of hearing aids in Cedar Rapids, for their program to help clients avoid the most costly mistakes when shopping for hearing aids. The owners of Abry Hearing Center are experts in providing hearing aids in Cedar Rapids, IA and over the years the specialists who work at the center have taken notice of the common mistakes some of their clients have made. Rather than keep this information to themselves they are now sharing it with existing and potential clients in order to help them avoid these mistakes.
According to Abry Hearing Center there are three steps to avoiding the common mistakes when buying hearing aids in Cedar Rapids, IA. The first step is to watch the Abry Hearing Center award-winning video that reveals the most recent advances in hearing aids. Next, visitors to the site can download the guide to better hearing, and finally they can make a no-obligation appointment to hear about the best solutions for hearing aids in Cedar Rapids, IA. Following these three steps will definitely help people avoid the most common mistakes when searching for a hearing aid.
The founders of Abry Hearing Center started the company to provide local residents the best hearing aid services and to offer them expert education, superior technology and excellent customer service. Abry Hearing Center offers clients hearing aids, hearing testing, hearing aid repairs, hearing aid evaluations, video otoscopy, speech mapping, and nationwide warranties.
The Abry Hearing Center website offers visitors information about all of these services and also offers a variety of information about hearing and hearing aids. The site even offers an online hearing test for adults. People who have tried hearing aids from Abry Hearing Center have been very satisfied with the service they receive.
Abry Hearing Center of Cedar Rapids, IA is located on Center Point Road in Cedar Rapids. Those who want to learn more can visit the company's website or call for an appointment.
CONTACT
Abry Hearing Center
3741 Center Point Road Northeast
Cedar Rapids, IA 52402
(319) 540-8276
http://cedarrapidshearing.com