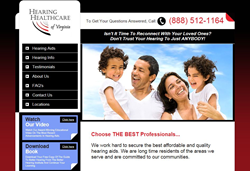 The discount is available to all new and returning patients.
Charlottesville, VA (PRWEB) February 09, 2013
The company known for providing hearing aids in Charlottesville now offers a $10 discount on custom hearing protection set or plugs. The discount is available to all new and returning patients. The staff is dedicated to giving clients an affordable and valuable experience. In order to give their clients the best service, the professionals at Hearing Healthcare of Virginia provide hearing aid information and hearing advancements on the website for any new patient to access.
Hearing Healthcare of Virginia was founded to help members of the community get more from a local hearing care provider. Hearing Healthcare of Virginia continues the tradition of better hearing through education, technology, and customer service. New patients can view testimonials on the Hearing Healthcare of Virginia website.
Christian Pogreba, Hearing Instrument Specialist and President at Hearing Healthcare of Virginia, began his career in the Hearing Industry in early 2000 as a Regional Manager for American Hearing Aid Associates (AHAA). He worked mainly with the development of hearing practices. He realized the impact that helping an individual to hear once again can have. He knew he wanted to have a more active role in helping people. After 3 years of traveling with AHAA he knew it was the time to make a change, not only for himself but also for his young children. In 2003 Christian began the education necessary to become a Hearing Instrument Specialist.
In 2004 Christian opened the doors on the first practice in Waynesboro. Charlottesville closely followed and opened in 2005. In 2007 he had the opportunity to purchase his own business space in Fishersville and in September of 2007 the Waynesboro office location was moved to 1534 Jefferson Hwy. in Fishersville. A third location in Lexington opened in January of 2008. In 2009 three more locations opened in Harrisonburg, Culpeper, and Covington.
About Hearing Healthcare of Virginia:
Hearing Healthcare of Virginia has provided hearing aids in Charlottesville, Virginia and its surrounding communities for several years. The company offers a full range of diagnostic and preventative hearing healthcare professional services, including hearing aid screening, evaluations, hearing aids sales and rehabilitative and preventative counseling. The staff is dedicated to keeping abreast of the latest improvements in technological advancements in the hearing industry and is committed to offering the most current options to their patients. Hearing Healthcare of Virginia would also like to community members to please meet Heather Short, their premier Audiologist.
Contact:
Christian Pogreba
http://www.hearvirginia.com/
Hearing Healthcare of Virginia
300 Hickman Road, Suite 202
Charlottesville, VA 22911
(434) 227-4151
Hearing Healthcare of Virginia
1534 Jefferson Highway
Fishersville, VA 22939
(540) 943-0007
Hearing Healthcare of Virginia
245 West Main St.
Covington, VA 24426
(540) 968-2852
Hearing Healthcare of Virginia
735-D East Market St.
Harrisonburg, VA 22801
(540) 246-0279
Hearing Healthcare of Virginia
700 Southridge Parkway, Suite 309
Culpeper, VA 22701
(540) 227-8206
Hearing Healthcare of Virginia
30 Crossing Lane, Suite 209
Lexington, VA 22450
(540) 319-4364