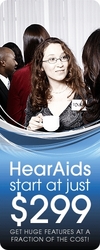 Eden Prairie, Minn (PRWEB) October 8, 2009
A new Web site designed to allow people with mild to moderate hearing loss purchase pre-configured hearing aids has been launched. HearAidStore.com will sell two models of behind-the-ear digital hearing aids.
"The HearAid products feature the most current and proven state-of-the-art technology available at prices that are a fraction of what similar products on the market cost. Plus, we've made it simple for individuals to determine if a HearAid product fits their needs by providing an easy online questionnaire. Since the HearAid hearing aids are pre-programmed, people will be able to use them straight out of the box. HearAid products start at $299 each," said HearAid Director of Operations Kirk Barton.
Barton added there are an estimated 25 million people under the age of 65 who struggle with some form of hearing loss. "Individuals suffering from mild to moderate hearing loss probably notice they have a hard time hearing conversations in situations with a lot of background noise, like crowded restaurants or even when they're driving a car with the windows open. The digital sound technology found in HearAid automatically reduces the background noise while amplifying voices. Plus, the design of this hearing aid is such that it is hardly noticeable."
By way of hearing aid comparison, Barton noted that older style analog hearing aids amplify all sounds, so digital technology has definite advantages. "Digital technology allows us to build smaller hearing aids that can distinguish an incoming sound (like speech, music, background noise or feedback) and then automatically trigger the features that best manage that sound. Plus, the HearAid digital hearing aids have directional technology that turns down sounds coming from behind and around the sides of an individual. This helps direct hearing to the sound a person is facing--whether it's another person, a TV set or a live performance," Barton said.
About HearAid
The HearAid Company was created to make quality digital hearing devices available and affordable to the millions of people who need them. By purchasing hearing aid components in large quantities and using sophisticated instant fit technology, we eliminate the hassle and expenses of hearing care professional middlemen and pass the savings along to our customers. The HearAid Company can be found online at http://www.hearaidstore.com.
# # #