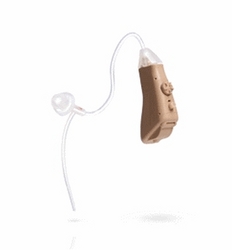 Hearing aids are costly, and we've found that financial constraints are often a barrier to purchase. This legislation would provide a measure of financial assistance for older adults and children suffering from hearing loss
Washington, DC (Vocus) March 6, 2010
If passed, a bill being considered by the House of Representatives and Senate could provide consumers with up to $1,000 in tax credits toward the purchase of new hearing aids. HearAid, an Internet-based hearing aid sales company, is supporting passage of the bill.
"We're very excited about the possibility of this program. It's estimated that 25 million people under the age of 65 suffer from some type of hearing loss, but a lot of them can't afford to do anything about it. This program will help those suffering from hearing loss lead fuller, more productive lives," said HearAid Chief Operating Manager Kirk Bradley.
Bradley also added that HearAid was created to offer quality digital hearing aid devices to customers at affordable prices by eliminating the middlemen. Its products come pre-programmed, allowing most customers to use them straight out of the box.
The bill, introduced in March 2009 by Rep. Carolyn McCarthy, D-N.Y., and later by Sen. Tom Harkin, D-Iowa, seeks to amend the Internal Revenue Code of 1986 to allow a credit against income tax for the purchase of hearing aids. If passed, the bill would apply to taxable years after Dec. 31, 2009.
Many health insurance plans, including Medicare, exclude coverage for hearing aid purchases, and 72 percent of all hearing aid purchases involve no third-party payment. "Hearing aids are costly, and we've found that financial constraints are often a barrier to purchase. This legislation would provide a measure of financial assistance for older adults and children suffering from hearing loss," said McCarthy.
For more information on HearAid, visit the Web at http://www.hearaidstore.com.
About HearAid
The HearAid Company was created to make quality digital hearing devices, like the TV hearing aid, available and affordable to the millions of people who need them. By purchasing hearing aid components in large quantities and using sophisticated instant fit technology, we eliminate the hassle and expenses of hearing care professional middlemen and pass the savings along to our customers.
# # #