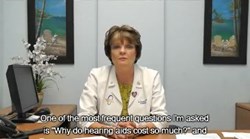 I'm Rosann Faull, Board Certified Doctor of Audiology, your community resource for better hearing in the Mandarin area of Jacksonville FL
Jacksonville, FL (PRWEB) April 11, 2013
In order to better serve the hearing care needs of Jacksonville FL, Audiology and Hearing Aid Services has added a hearing aid reviews and testimonials section to their website at http://drfaull.com. This new page, will showcase the stories of former and current patients dealing with age-related hearing loss, noise-related hearing loss, conductive hearing loss, tinnitus, hyperacusis and other hearing challenges. Dr. Rosann Faull is pleased to present this new addition noting that it is very helpful for potential patients to see themselves in the experiences of others. So many Americans suffer with hearing loss and it is important for them to understand that they are not alone and that solutions - including but not limited to hearing aids - do exist. The new hearing aid reviews and testimonials section will help the residents of Jacksonville find a community of people that have gone through the same experience.
There are many different reasons for hearing loss, and visitors to the website should not try to diagnose themselves. Individuals that suspect they have some form of hearing loss or who are experiencing pain or ringing in the ears should be evaluated by a qualified audiologist. A physical exam and hearing test are the first step in understanding the source of the hearing loss. The solutions that have worked for the other patients featured on the testimonials page, may or may not be appropriate in all cases.
About Dr. Rosann Faull
Dr. Rosann Faull is an expert in audiometric testing and digital hearing aid technology for all ages. She received her B.S. in Communication Disorders from Northern Illinois University, M.A. in Audiology from Northern Illinois University, and her Au.D. from the Arizona School of Health Sciences. She is Board Certified in Audiology and a member of the American Speech-Language Hearing Association, American Academy of Audiology, American Board of Audiology and Florida Academy of Audiology.
About Audiology and Hearing Aid Services
Audiology and Hearing Aid Services has been serving the Jacksonville FL area since 1983 and is known for its commitment to innovation and excellent patient care and communication. Audiology and Hearing Aid Services is a full service audiology office offering digital hearing aids, hearing aid modification and programming, verification of hearing aid benefits using real speech mapping, blue tooth enabled hearing aids, cochlear implants, tinnitus evaluation and treatment and more. Audiology and Hearing Aid Services is located in the Mandarin neighborhood of Jacksonville. More information about Jacksonville FL hearing aids is available on the website and YouTube channel.
Contact:
Dr. Rosann Faull
http://drfaull.com
Audiology and Hearing Aid Services
12276 San Jose Boulevard #710
Jacksonville FL 32223
(904) 685-1394