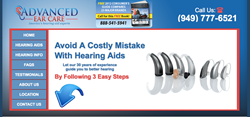 Advanced Ear Care, a top provider for hearing aids in Laguna Woods, launched its new website for its clients who need hearing information quickly.
Laguna Woods, CA (PRWEB) November 28, 2012
Advanced Ear Care, a top provider of hearing aids in Laguna Woods CA launched its new website for patients who need access to accurate hearing care information quickly. The website provides California residents with an online hearing test, information on hearing loss and hearing aid styles and video testimonials by real Advanced Ear Care clients. The website also gives information on digital hearing aids and the difference between digital and analog hearing aids in Laguna Woods.
The website is particularly helpful to people who need information on hearing loss. Studies have linked untreated hearing loss to emotional, physical, mental, psychological and even economic disadvantages. There are several causes of hearing loss with "exposure to noise" ranking high among the reasons. The primary causes of hearing loss are: exposure to noise, family history of hearing loss, medicine, aging process, disease and head trauma.
Stuart Spencer, Owner and President of Advanced Ear Care, has been serving South Orange County, CA residents as Advanced Ear Care for nearly three decades. He has helped literally thousands of people improve their quality of life by effectively fitting them with appropriate, quality hearing instruments, and recommending a personalized follow-up plan that he believes is critical for individual best results. Since 2003, Spencer has been repeatedly elected as the Secretary for the Hearing HealthCare Providers (HHP) of California. As Secretary, Spencer has often lobbied before the state legislature in a continuing effort to provide the best possible hearing healthcare environment and service for those who have hearing loss.
About Advanced Ear Care
Advanced Ear Care has provided hearing aids in Laguna Woods, CA and its surrounding communities for several years. They offer a full range of diagnostic and preventative hearing healthcare professional services, including hearing aid screening, evaluations, hearing aids sales and rehabilitative and preventative counseling. The company is dedicated to keeping abreast of the latest improvements in technological advancements in the hearing industry and is committed to offering the most current options to its patients.
Contact:
Mr. Stuart Spencer
http://www.advancedearcare.com
Advanced Ear Care
24310 Moulton Parkway, Suite D
Laguna Woods, CA 92637
(949) 777-6521