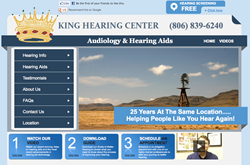 The staff made the video in order to thank the King Hearing Center patients for all their support and business.
Lubbock, Texas (PRWEB) December 24, 2012
King Hearing Center, known for providing hearing aids in Lubbock, recently produced a new video for Texas residents. Additionally, the company celebrated their 25th year in the same location.
The video, made to help the King Hearing Center patients and Lubbock, Texas residents, discusses how people hear, hearing loss, hearing diagnosis, and treatment and technology. New and returning patients can access the video for the most up-to-date hearing aid advancements.
The latest available statistics show that over 10% of the U.S. population reports difficulty hearing. That's more than 31 million people, and as the Baby Boomer generation continues to age, that number promises to increase dramatically. In addition, studies have linked untreated hearing loss to emotional, physical, mental, psychological and even economic disadvantages. In hopes of reducing these issues, King Hearing Center created the informational video for patients.
Mr. Randall King has been fitting hearing aids since 1986. In December 1982, Mr. King graduated from Texas Tech University. He entered the hearing aid industry in 1986. Today, Mr. King evaluates manufacturers and distribution networks to determine what will work best. He has purposely avoided special branding for the past twelve years and uses the major manufacturer's main products that will allow any specialist to make changes to the hearing aids. This means that his patients get the best, most advanced technology.
About King Hearing Center:
King Hearing Center has served the Lubbock, Texas area and its surrounding communities for over 25 years. The company offers a full range of hearing healthcare professional services, including hearing aid screening, evaluations, hearing aids sales and rehabilitative and preventative counseling. The staff is dedicated to keeping abreast of the latest improvements in technological advancements in the hearing industry and is committed to offering the most current options to our patients.
Contact:
Mr. Randall King
http://www.kinghearing.com/
King Hearing Center
2821 74th Street
Lubbock, TX 79423
(806) 839-6240