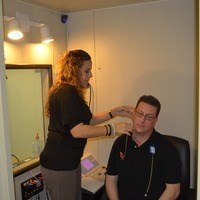 Miami,FL (PRWEB) May 15, 2013
Progressive Hearing recently added a blog to the company website to offer hearing care advice to area residents on a consistent basis. The audiologists at Progressive Hearing have brainstormed a long list of categories and topics for the new blog. The blog articles will cover topics ranging from frequently asked questions, to preventative care, to advances in hearing aid technology, to cutting-edge research into reversing hearing loss. New content will be added on a weekly basis and syndicated automatically to Progressive Hearing's Facebook and Twitter accounts for broader distribution.
Progressive Hearing hopes that all of their former and current patients that wear hearing aids in Miami and Miami Beach will visit the website regularly to see what is new on the blog. Currently, the blog only contains a handful of articles, but it will expand rapidly over time. Here are just a few examples of articles already published:
How to Find a Cellular Phone that will be Compatible with Your Hearing Aid
Should You Wear One Hearing Aid or Two?
What is Tinnitus Retraining Therapy and What Types of People Can Benefit from It?
Improving Home Safety for Hearing Impaired Family Members
Recognizing the Most Frequent Signs of Hearing Loss in a Loved One
To be responsive to the needs of Miami residents, Progressive Hearing encourages anyone with hearing loss or who wears hearing aids in Miami to submit additional category or topic suggestions.
About Dr. Susan Roth
Dr. Susan Roth is an Audiologist and the owner of Progressive Hearing. Dr. Roth obtained her undergraduate degree at Miami University in Ohio obtaining a Certificate in Gerontology from The Scripps Gerontology Center. Dr. Roth sought her Doctorate in Audiology at the University of Cincinnati, graduating in 1995. Later that year she moved to Florida and now calls the Sunshine State her home after having lived all over the US and Europe as an "Air Force Child".
About Progressive Hearing:
Progressive Hearing has provided hearing aids in Miami, Florida and its surrounding communities for over 10 years. The company offers a full range of diagnostic and preventative hearing healthcare professional services, including hearing aid screening, evaluations, hearing aids sales and rehabilitative and preventative counseling. The staff at Progressive Hearing is dedicated to keeping abreast of the latest improvements in technological advancements in the hearing industry and is committed to offering the most current options to their patients. Initial evaluations and consultations are free of charge. Progressive Hearing is located in the Mt. Sinai Hospital complex on Miami Beach and with a satellite office at Mt. Sinai Aventura.
Contact:
Susan Roth
http://www.progressivehearing.com/
Progressive Hearing
4302 Alton Road
Miami, FL 33140
(786) 232-4977
Progressive Hearing
2845 Aventura Blvd., Suite 248
Aventura, FL 33180
(786) 245-6119