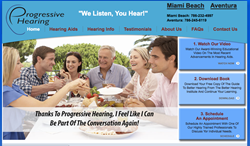 Patients looking for a new audiologist in Miami FL can now visit Progressive Hearing for a free hearing evaluation.
Miami, Fla. (PRWEB) February 11, 2013
Patients looking for a new audiologist in Miami, Fla. can now visit Progressive Hearing for a complimentary hearing evaluation. The evaluation is the first step to achieving better hearing, and the staff at Progressive Hearing wants to give its clients the best chance at enjoying their surroundings. There is no obligation and the highly trained and friendly professionals will discuss the results of each patient's test and present treatment options for them to consider. Progressive Hearing was founded to help members of the community get more from a local hearing care provider. The staff continues the tradition of better hearing through education, technology, and customer service.
Many people suffer from hearing loss. In fact, the latest available statistics show that over 10% of the U.S. population reports difficulty hearing—that's more than 31 million people. As the Baby Boomer generation continues to age, that number promises to increase dramatically. In addition, studies have linked untreated loss of hearing to emotional, physical, mental, psychological and even economic disadvantages.
Susan Roth is an Audiologist and the owner of Progressive Hearing. Susan received her Doctorate in Audiology from the University of Cincinnati in 1995. She also minored in gerontology, obtaining a Certificate in Gerontology from The Scripps Foundation in Oxford, Ohio where she had also completed her undergraduate degree. She has the education and experience to back her business, which provides hearing healthcare services in the Miami and Aventura areas.
About Progressive Hearing:
Progressive Hearing has provided hearing aids in Miami, Florida and its surrounding communities for over 10 years. The company offers a full range of diagnostic and preventative hearing healthcare professional services, including hearing aid screening, evaluations, hearing aids sales and rehabilitative and preventative counseling. The staff at Progressive Hearing is dedicated to keeping abreast of the latest improvements in technological advancements in the hearing industry and is committed to offering the most current options to our patients.
Contact:
Susan Roth
http://www.progressivehearing.com/
Progressive Hearing
4302 Alton Road
Miami, FL 33140
(786) 232-4977
Progressive Hearing
2845 Aventura Blvd., Suite 248
Aventura, FL 33180
(786) 245-6119