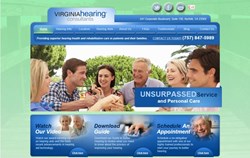 Virginia Hearing Consultants Now Makes Getting Hearing Aids in Norfolk, VA Easier With Complimentary Hearing Screenings
Norfolk, VA (PRWEB) January 10, 2013
The company known for providing hearing aids in Norfolk VA, Virginia Hearing Consultants, now offers a complimentary hearing evaluation to new and returning patients. The staff at Virginia Hearing Consultants wanted to give their patients the best hearing experience with the new hearing screenings. Virginia Hearing Consultants has a long reputation of providing the best hearing aid experience – guiding patients through the initial hearing exam, the choice of hearing aid styles, the custom fitting and programming of the device, and the ultimate care and maintenance.
The journey to better hearing begins with an accurate audiological evaluation or hearing test. The results of this test, combined with a person's lifestyle, budget considerations, and personal preferences must be weighed equally when determining the hearing aid that will be of most benefit to them. Each patient receives truly personalized service to make sure that the hearing aid they select best fits their specific hearing loss type, lifestyle, performance expectations and budget.
Dr. Theresa Bartlett Au.D. is the primary audiologist at Virginia Hearing Consultants. She founded a private audiology practice in Norfolk in 2003 which later merged with another to form Virginia Hearing Consultants in 2005. Dr. Bartlett earned her Bachelor's Degree in Speech Pathology from James Madison University, her Master's Degree in Speech and Hearing Sciences from the University of Southern Mississippi, and her Doctorate in Audiology from the Arizona School of Health Sciences. Dr. Bartlett is certified by the American Speech and Hearing Association and is a member of the American Academy of Audiology and the Tidewater Audiology Society. She is also a member of the Academy of Doctors of Audiology.
About Virginia Hearing Consultants:
Virginia Hearing Consultants has provided hearing aids in Norfolk, Virginia and its surrounding communities for over 9 years. The company offers a full range of diagnostic and preventative hearing healthcare professional services, including hearing aid screening, evaluations, hearing aids sales and rehabilitative and preventative counseling. The staff is dedicated to keeping abreast of the latest improvements in technological advancements in the hearing industry and is committed to offering the most current options to our patients.
Contact:
Dr. Theresa Bartlett
http://virginiahearing.com
Virginia Hearing Consultants
241 Corporate Blvd., Suite 150
Norfolk, VA 23502
(757) 847-5989