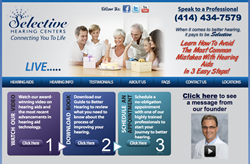 The new hearing aid was developed to automatically adapt to the ever-changing environments of each patient's life.
Oak Creek, WI (PRWEB) January 22, 2013
Selective Hearing Centers, the top provider of hearing aids in Oak Creek, now offers a new high-tech hearing aid—the Phonak Ambra. A Phonak Ambra provides exclusive benefits designed to improve understanding and stay connected without giving up design. The new hearing aid was developed to automatically adapt to the ever-changing environments of each patient's life. Phonak Ambra helps the wearer hear their friend in a noisy restaurant, loved ones' voices, children's laughter, and music. The hearing aid includes access to technology such as GPS, MP3 players, TV, and telephone.
Hearing begins when the outer ear, the visible portion of the ear that is on the outside of the head, channels sound waves down the auditory canal. The middle ear lies at the end of the auditory canal. It is composed of the eardrum and three small bones, known by the layman as the hammer, the anvil and the stirrup. When sound waves hit the eardrum, it vibrates and, in turn, moves the hammer. The hammer moves the anvil, which moves the stirrup, transmitting the vibrations into the inner ear. The middle ear functions to amplify sound, which is why significant hearing loss can result from disruption in any of these parts. Understanding how the ear and how hearing works is essential in finding the right hearing aid for each person, and digital hearing aids are becoming more and more sophisticated with time.
Jeffrey J. Johnston has been in the hearing care industry for over 12 years and has helped thousands of patients improve their quality of life with the use of hearing aids. For six years Jeff worked for the manufacturer who invented the RIC style hearing aid that is so commonly used today. He was also responsible for training audiologists, hearing instrument specialists and other technicians across the U.S. on how to properly fit this exciting new style. This unique experience coupled with years of working directly with hearing aid patients has made Jeff one of the industries best at helping patients transition to life with the use of hearing aids.
About Selective Hearing Centers:
Selective Hearing Centers provides hearing aids in Oak Creek and its surrounding communities. The company offers a full range of diagnostic and preventative hearing healthcare professional services, including hearing aid screening, evaluations, hearing aids sales and rehabilitative and preventative counseling. The staff members are dedicated to keeping abreast of the latest improvements in technological advancements in the hearing industry and are committed to offering the most current options to patients.
Contact:
Mr. Jeff Johnston
http://www.selectivehearingcenters.com
Selective Hearing Centers
7820 South Howell Avenue
Oak Creek, WI 53142
(414) 434-7579