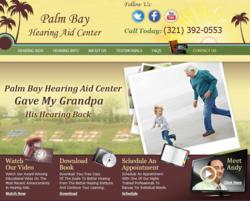 The only regret that I have is that I waited to long to get my hearing aids. I never knew how much I was missing. They are easy to use, very comfortable and I thank the friendly, happy and helpful staff for all their concern in this decision.
Palm Bay, FL (PRWEB) October 16, 2012
Palm Bay Hearing Aid Center, the leading provider of hearing aids in Palm Bay FL, is pleased to announces the launch of its new website at palmbayhearingaids.com. The website features extensive new content, including an award winning video, large print, and easier navigation that allows customers to quickly find the hearing aid information they are looking for or make an appointment. The newly created feature video on advances in hearing aid technology has already won several awards and runs 21 minutes. After watching the video, visitors to palmbayhearingaids.com can download the free Guide to Better Hearing and schedule an appointment right from the home page. The website redesign demonstrates Palm Bay Hearing Aid Center's continued efforts to help its patients throughout the process of purchasing a hearing aid from the initial research to the final fitting.
As part of the website redesign, Palm Bay Hearing Aid Center has launched a YouTube channel to distribute educational videos about hearing aids. In addition to publishing the videos on YouTube, they are also embedded in the main website giving customer two opportunities to view them. The team at Palm Bay Hearing Aid Center wants patients to have as much information as possible before making an appointment and encourages those considering purchasing hearing aids in Palm Bay to watch the full video series.
Palm Bay Hearing Aid Center is a family business that was started by John Roberts. The other hearing aid specialists on the team include his son Andrew Roberts and daughter Julie Roberts. John has over 25 of experience and has fit over 5,000 hearing aids. He began his career in Michigan and moved to Florida in 2002. As owner of Palm Bay Hearing Aid Center, John is the go-to guy for advice and consultations. Andy Roberts joined the family business in 2003 after his tour with the United States Air Force. He is a Licensed Hearing Aid Specialist in the State of Florida. Andy is a technical wizard who is known for his skills in modifying hearing aids for comfort and clarity. Julie Roberts is also licensed in Florida as a Hearing Aid Specialist. She specializes in all aspects of testing, verification, fitting, repair, and counseling.
The entire team at Palm Bay Hearing Aid Center is extremely enthusiastic about how the new website will help patients in the Palm Bay area learn more about hearing aid technology and the what to look for in the purchase of a new hearing aid.
To see the new website design, and to learn more about Palm Bay Hearing Aid Center, visit palmbayhearingaids.com
Contact:
Palm Bay Hearing Aid Center
754 Malabar Road Southeast
Palm Bay, FL 32907
(321) 392-0553
http://palmbayhearingaids.com