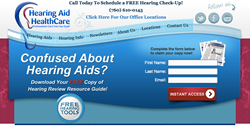 The new website for Hearing Aid HealthCare will provide new and returning clients with easy access to the latest hearing aid technology.
Palm Desert, CA (PRWEB) November 20, 2012
Hearing Aid HealthCare, a top provider of hearing aids in Palm Desert, announces a new website for its valued customers. The website helps consumers in Palm Desert and the surrounding areas choose the right hearing aid and answers common questions about hearing loss and hearing aid technology. The website provides information on the many types and styles of hearing aids, including: invisible hearing aids, wireless hearing aids, digital hearing aids, hearing aids for children, hearing protection, behind the ear hearing aids, receiver in canal hearing aids, and more. New customers can also browse the testimonial section of the website to get an idea of how Hearing Aid HealthCare can help with their unique hearing situation.
The new website allows new and returning clients to watch an educational award-winning video on hearing aids and the recent advancement in hearing aid technology, download the free copy of Hearing Review resource guide, and finally schedule a consultation. The accompanying YouTube channel contains numerous excellent videos on selecting and caring for hearing aids in Palm Desert CA.
Jeannette Hait, co-founder of Hearing Aid HealthCare, has been in the hearing aid profession since 1989. She is a Licensed Hearing Aid Dispenser, a Certified Audioprosthologist, a Certified Occupational Hearing Conservationist and is Nationally Board Certified in Hearing Instrument Sciences. Hait has also been a Proctor for the Department of Consumer Affairs licensing board since 1997 and is a member of Hearing HealthCare Providers of California and has been a past board member as well. She is also a member of the International Hearing Society.
About Hearing Aid HealthCare:
Hearing Aid HealthCare has provided hearing aids in Palm Desert, California and its surrounding communities for several years. The company offers a full range of diagnostic and preventative hearing health care professional services, including hearing aid screening, evaluations, hearing aids sales and rehabilitative and preventative counseling. The staff are dedicated to keeping abreast of the latest improvements in technological advancements in the hearing industry and are committed to offering the most current options to their patients.
Contact:
Mrs. Jeannette Hait
http://hahc.net/
Hearing Aid HealthCare
44630 Monterey Avenue, #100
Palm Desert, CA 92260
(760) 610-0145
Hearing Aid HealthCare
39615 Washington Street, Suite C
Palm Desert, CA 92211
(760) 610-0425
Hearing Aid HealthCare
555 S. Sunrise Way, Suite #116
Palm Springs, CA 92264
(760) 904-0171
Hearing Aid HealthCare
655 Palm Canyon Drive
Borrego Springs, CA 92004
(760) 989-4005
Hearing Aid HealthCare
80150 Hwy 111, Suite C-2
Indio, CA 92201
(760) 989-4005
Hearing Aid HealthCare
56669 29 Palms Hwy, Suite G
Yucca Valley, CA 92284
(760) 820-4850