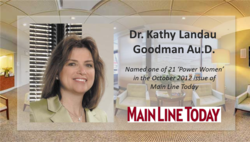 My colleagues thought it would never be possible for me to sustain a practice in Philadelphia, especially as a female.
Philadelphia, PA (PRWEB) October 11, 2012
After opening the first private audiology practice in the Philadelphia suburbs in 1984, Dr. Kathy Landau Goodman has grown Mainline Audiology to five locations and six full-time audiologists, earning her the distinction as one of the region's 'Power Women'.
A very personal story first propelled Dr. Kathy Landau Goodman to become an audiologist; Today the business she created provides audiology services and hearing aids in the entire Philadelphia area including more than 50 retirement communities, assisted-living facilities and nursing homes. Dr. Goodman's success growing Main Line Audiology Consultants from a single location in 1984 to a 5-location, award winning practice with locations in Downtown Philadelphia, Narberth, Jenkintown, Ridley Park, Audubon earned her a spot in the October 2012 issue of Main Line Today as a featured 'Power Woman'.
Dr. Goodman's father was born with profound hearing loss, but he never let that get in his way. According to Dr. Goodman, "He never let his hearing loss interfere with anything he wanted to accomplish in life. His attitude was incredibly positive, and he viewed each setback as a challenge." When it came time to choose a career, Dr. Goodman threw herself into the field of audiology and speech-language pathology earning two Master's degrees from Hahnemann Medical College and her doctorate from Central Michigan University. After graduation she founded Main Line Audiology Consultants, becoming the first private audiologist in the Philadelphia suburbs.
Today, Main Line Audiology Consultants has 5 locations in the Philadelphia area, a relationship with the School District of Philadelphia to serve the hearing needs of the young, and a network of partnerships with local retirement communities and assisted living facilities to serve the young at heart. Six full-time audiologists serve the five locations with Founder and President Dr. Kathy Landau Goodman as the team leader.
With a track record of growth and success like this, it is no surprise that Main Line Today named Dr. Goodman one of its local 'Power Women' in the October 2012 issue. Dr. Goodman has positioned Main Line Audiology Consultants as the premiere provider of hearing aids, speech pathology and all other audiological services in the Philadelphia area.
Contact:
Main Line Audiology Consultants, PC
2 Franklin Town Boulevard
Philadelphia, PA 19103
(888) 344-0818
http://mainlineaudiology.com
Additional locations in Narberth/Penn Valley, Audubon, Jenkintown and Ridley Park. See website at mainlineaudiology.com for address and directions.