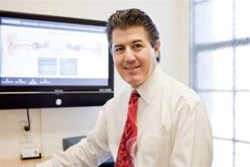 Santa Barbara, CA (PRWEB) May 11, 2013
Dodero Hearing Center has recently added a weekly blog to the company's website to share hearing health tips and research. Every week, the Santa Barbara audiologists will be adding a new featured article to the blog. These new additions will be automatically syndicated to the company's Facebook and Twitter pages to reach a wider audience.
The hearing care blog is a great learning resource for people who wear hearing aids in Santa Barbara, are suffering from hearing loss, or have a loved one or family member with impaired hearing. Although the blog is still fairly new, it already contains articles that address many of the practice's frequently asked questions by consumers such as choosing a hearing aid compatible mobile phone, detecting hearing loss in children, predicting how long hearing aid batteries will last and making your home safer for the hearing impaired. Practice owner, David Dodero, is very excited about the addition of the blog to be able to share research, tips and advice easily with readers in and around the Santa Barbara area.
About Dr. David Dodero
Dr. David Dodero has been providing quality hearing health care services to the Santa Barbara community since 1977. He received a clinical doctorate degree in audiology in 2004 at Arizona School of Health Sciences; a master's degree in audiology in 1976 at CSU Los Angeles; and a bachelor of arts degree in Speech & Hearing in 1975 at UC Santa Barbara. Dr. Dodero holds the certificate of clinical competence granted by the American Speech-Language-Hearing Association and is a member of the American Academy of Audiology. From 1977-1992 he held the position of clinical audiologist at the prestigious Sansum Clinic in Santa Barbara. In 1992, he opened Dodero Hearing Center to offer comprehensive diagnostic hearing assessments and the most advanced hearing technologies. Dr. Dodero believes in giving back to the community by offering free hearing screenings, educational classes for many of the retirement facilities and Lunch & Learn seminars with an emphasis on improving the hearing impaired person's ability to hear and understand others on a daily basis.
About Dodero Hearing Center
Dodero Hearing Center is a full service office providing the most comprehensive hearing care available in Santa Barbara from caring professionals. Dodero Hearing Center services consist of a full range of diagnostic tests to specifically assess the type and degree of hearing loss. Dodero Hearing Center has the most advanced hearing technologies available and takes pride in the fact that as the field of hearing aid technology changes they change with it. Dodero Hearing Center is a multi-line dispensing practice offering quality hearing instruments from many of the top manufacturers in the industry such as Oticon, Phonak, Sonic Innovations, Widex and others. Featuring 100% digital, fully automatic, virtually invisible hearing devices, with models that incorporate user-friendly wireless capabilities to enhance cell phone and TV, Dodero Hearing Center will ensure your hearing aids fit comfortably, work properly, and give you the maximum hearing enhancement available.
Contact:
David Dodero
http://doderohearing.com
Dodero Hearing Center
1801 State Street, Ste A
Santa Barbara, CA 93101
805-284-0889